Yes, a busy golf tourney in Scottsdale creates busier freeway traffic
Yes, a busy golf tourney in Scottsdale creates busier freeway traffic
By Doug Nintzel / ADOT Communications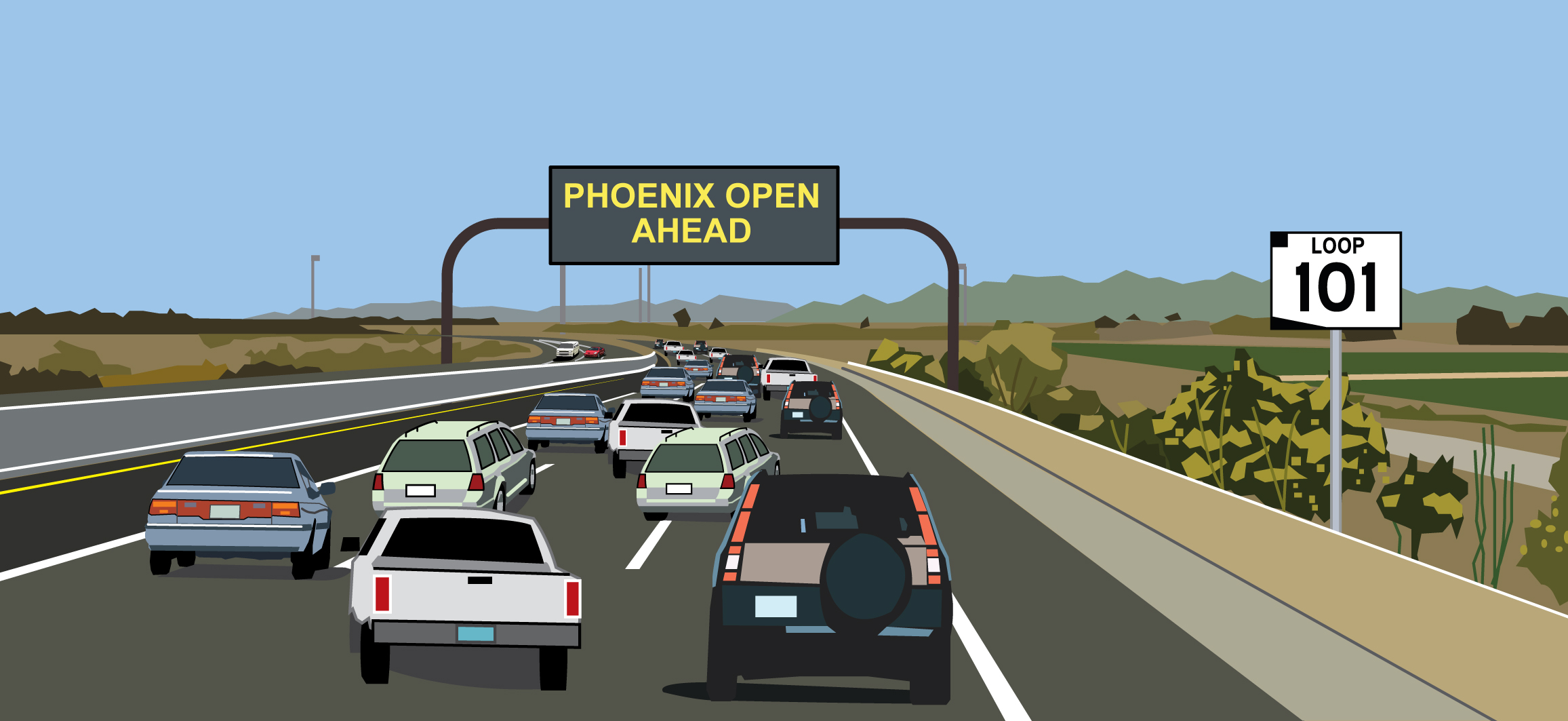 It's that time of the year, when funny looking pants, shuttle buses, a blimp and even heavier Loop 101 traffic are par for the course in north Scottsdale. With hundreds of thousands heading to the Waste Management Phoenix Open through Sunday, Feb. 2, here are a few things to keep in mind whether you'll be at the TPC of Scottsdale or just want to avoid rush hour commotion.
First (and you may not have known this): The Loop 101 Pima Freeway will be busier than normal. So give yourself plenty of extra travel time and at least think about alternate routes, especially when most people are heading to and from the golf course at the beginning and end of each day. 
ADOT is in the midst of the big Loop 101 Pima Freeway Widening Project stretching all the way from I-17 east to Princess Drive near the TPC course. Crews are adding new lanes in both directions along the freeway. The project will help with traffic flow when it's done in 2021, but it's never easy while the expansion work is taking place.
You should expect heavier, and slower, traffic along Loop 101 in the northeast Phoenix and north Scottsdale areas. That includes locations like the interchanges at Scottsdale and Hayden roads, Princess Drive/Pima Road as well as Frank Lloyd Wright Boulevard.
It's worth repeating: Extra travel time. It helps cut down on frustration. It'll be very busy at the Loop 101 exits and entrances at Hayden Road because many golf fans will be using the large general parking area south of the freeway and taking shuttle buses to the golf course.
The Waste Management Phoenix Open and city of Scottsdale have also arranged for general parking  at WestWorld, which is accessible by exiting northbound Loop 101 at Frank Lloyd Wright Boulevard or southbound at Princess Drive and using the freeway frontage roads to Bell Road (travel east to the WestWorld entrance).
WestWorld also is where rideshare services such as Lyft and Uber will be operating. Shuttle buses will be operating to and from the WestWorld lot on a continuous basis from 7 a.m. to 11 p.m. Wednesday through Saturday and from 7 a.m. to 6:30 p.m. on Sunday. The city of Scottsdale expects to save par, I mean time, for rideshare users with the WestWorld shuttle program.
It's time to think about safe driving, about patience and extra travel time (again). And about never, ever driving while impaired. Designated drivers? They win the tourney, every time. Good luck and let's all make it Safely Home.