You like us; you really, really like us -- on Facebook
You like us; you really, really like us -- on Facebook
By David Rookhuyzen / ADOT Communications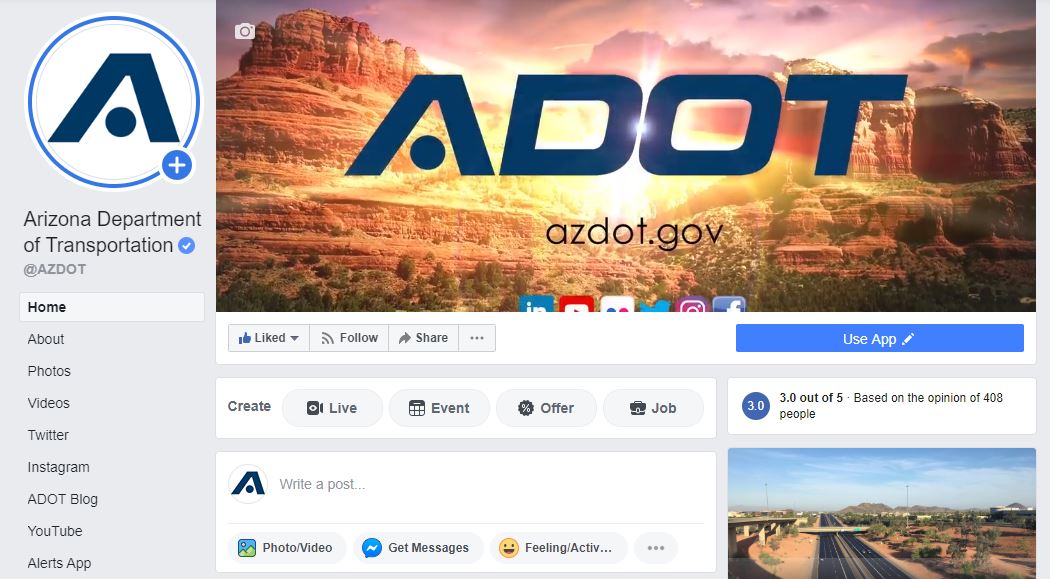 ADOT's Facebook page has hit a big milestone as the 100,000th person has decided to click that "Like" button.
While being told someone new likes you is always a nice ego boost, what this represents is even better.
Because all those likes mean you see our page and posts as valuable, worth your time and helpful. And that's everything that those who oversee our social media accounts strive to be. While Twitter is our vehicle for immediate, up-to-date traffic information, Facebook is a great tool to get the word out about upcoming construction, highway closures and the latest transportation news. It's also a great space to share photos and videos, even our weekly "Where in AZ?" quizzes.
We've even been known to crack a joke or two and point out when we happened to catch a bird, or a dog or even a lightning strike on camera. 
There have been a lot of transportation-related posts up on our page over the years, but here are some of the highlights:
So what's next? Well, there's a lot more to post about transportation and we'll keep doing it, just as long as you like.