Your input is important to ADOT's planning and programming process
Your input is important to ADOT's planning and programming process
By John Halikowski / ADOT Director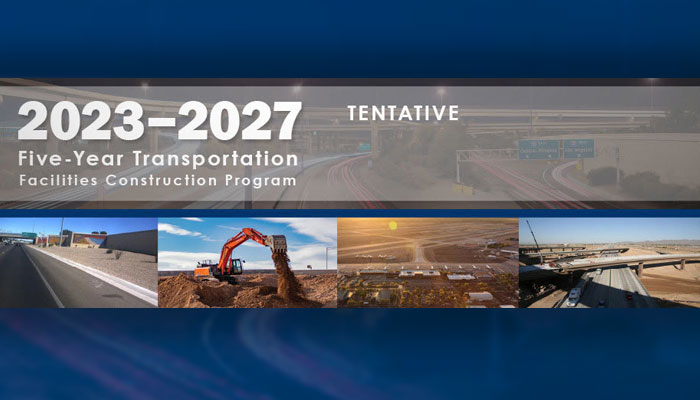 Your input is an important part of the planning and programming process at the Arizona Department of Transportation. The comment period has opened for the tentative 2023-2027 Five-Year Transportation Facilities Construction Program and I encourage you to let your voice be heard.
The Arizona State Transportation Board values the input from the public in deciding which projects get approved for inclusion in the Five-Year Program. It is a good time to remind you that our Five-Year plan isn't just about highways. It includes multimodal transportation like public transit, pedestrian, bicycling and aviation. While serving as a blueprint for future projects, it also designates how much local, state and federal funding is allocated for those projects. 
There are several ways you can participate between now and June 2:
Complete an online comment form at: https://www.surveymonkey.com/r/ADOTFiveYearSurvey
Attend the open public hearing of the State Transportation Board at 9 a.m. on Friday, May 20. Meeting information can be found at http://aztransportationboard.gov.
Email: [email protected]
Call the bilingual phone line at: 855.712.8530
Mail ADOT at: Attn: Courtney King, c/o ADOT Communications, 1655 W. Jackson, Room 179, MD 126F, Phoenix, AZ 85007
I also encourage you to visit the Five-Year Program web page to learn which projects - roads, bridges, safety improvement, transit and airports - are in the Tentative 2023-2027 Five-Year Transportation Facilities Construction Program.
ADOT is responsible for preserving the infrastructure we have built. The state highway system infrastructure is valued at $23.5 billion. Without a commitment to preservation, the system would cost $300 billion to replace. It's ADOT's responsibility to invest the funds in the Five-Year program to preserve the infrastructure we currently have. 
Let your voice be heard as part of ADOT's planning and programming process. We look forward to hearing from you.