Yuma International Airport named 2015 Airport of the Year
Yuma International Airport named 2015 Airport of the Year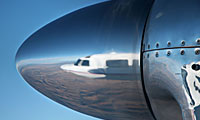 Did you hear the news? ADOT has named the Yuma International Airport as the 2015 Airport of the Year!
The award was presented to the airport director and staff at the Arizona Airports Association annual conference earlier this month in Lake Havasu City.
Long established with a history of serving both civilians and military personnel, the Yuma International Airport staff prides itself on stellar customer service and programs to improve airport operations within the Yuma community. In winning this award, the airport is being recognized for its outstanding service and accomplishments over the past year.
Managed by the Yuma County Airport Authority, the Yuma International Airport is also home to Marine Corps Air Station Yuma. As a facility that serves both passengers and military servicemen and women, the airport has been recognized for the many programs and services it offers, in addition to its daily operations. These programs include welcome home celebrations for troops, airport tours for students of all ages, outreach to encourage careers in the aviation industry and the establishment of a military comfort center within the airport terminal.
More about the airport's major successes and accomplishments from the past year can be found in this news release.
Aeronautics and airport development at ADOT
Many might not realize it, but ADOT plays an important role in aeronautics and the development of airports across the state. While there are 114 airports across Arizona, 83 airports—including 11 privately owned airfields and 14 Native American owned airports—are identified in ADOT's system of airports.
These 83 airports vary in size and serve different functions in meeting Arizona's aviation and economic needs. Arizona's total economic impact from this system of airports is $58 billion annually, according to ADOT research. ADOT works with 65 of the 83 airports throughout the federal and state grant process as part of the Airport Development Program.
ADOT's Aeronautics Group within the Multimodal Planning Division accepts applications and nominations for the Airport of the Year. The Aeronautics Group looks at accomplishments in the areas of community relations, airport management, airport maintenance activities, and innovative activities and programs implemented at airports.
Visit our website for more details on ADOT's Aeronautics Group and Airport Development Program.