Border Liaison Unit / Arizona-Sonora Border Relations
Border Liaison Unit / Arizona-Sonora Border Relations
Para traducir este sitio al español, use Google Translate localizado en la parte de abajo.
The Arizona Department of Transportation Border Liaison Unit is partnering with the Motor Carrier community, the Federal Motor Carrier Safety Administration (FMCSA), Arizona Department of Public Safety, the Transportation and Trade Corridor Alliance and other agencies, regarding International Commercial Motor Vehicle traffic associated with NAFTA.
The Border Liaison Unit, together with our transportation partners on both sides of the border, collaborate with elected government officials to provide a safe and effective transportation network.
The Border Liaison Unit work with the Motor Carrier Industry and provides multiple topic workshops and instructional classes to promote and ensure the safe efficient movement of people, goods and services through our southern international ports of entry while promoting compliance with all applicable state and federal laws and regulations.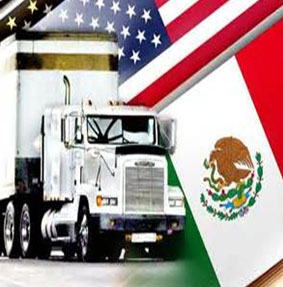 What we do
The Border Liaison Unit
works directly with the International Commercial Transportation Industry to build stronger and more effective relationships with stakeholders to improve cross-border commerce. 

conducts Commercial Vehicle Inspections and Permitting classes in both Arizona and Sonora to better prepare Mexican Carriers crossing the border with a better experience and with reduced delays.

works with public and private partners in Sonora, Mexico and southern Arizona to streamline the inspection and permitting process.

dedicates 100% of its time in enhancing cross-border activities aimed at educating stakeholders on the "inspection/permitting" process, assisting drivers and companies in improving their safety rating and providing outreach/training to drivers and companies regarding U.S. Commercial Vehicle Safety rules and regulations.  The officers will also assist carriers with problem solving and identify solutions for cross border commerce.

aims to enhance established international communication with our law enforcement counterparts, and to continue the spirit of cooperation that has been achieved between the law enforcement agencies of these neighboring countries.  
Border Liaison Unit News