2023 Partnering Excellence Awards
2023 Partnering Excellence Awards
The award, established in 2005, recognizes partnership teams who
demonstrate a high degree of achievement through the practice of partnering principles.
display the application of the partnering processes related to the transportation industry.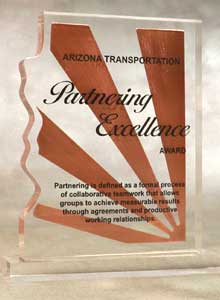 The Arizona Transportation Partnering Excellence Awards are sponsored by Arizona Department of Transportation, Associated General Contractors Arizona Chapter, Arizona Public Works Association, American Council of Engineering Companies, Associated Minority Contractors of Arizona, Arizona Transportation Builders Association, Federal Highway Administration and Maricopa County Department of Transportation.
What is partnering?
Partnering is defined as "a process of collaborative teamwork to achieve measurable results through agreements and productive working relationships."
Tangible deliverables of a partnering process may include a partnering charter, agreement or purpose document; an issue resolution/decision-making process; action plans; evaluation methods; meeting follow-up and reporting.
The following categories of partnerships must have demonstrated participation in a partnering process related to the transportation industry — the movement of people and goods within the State of Arizona. There may be multiple awards for each category. An organization can apply in more than one category, and for more than one project in each category. (See Eligibility Requirements)
Why should your project team apply for this award?
Any team that applies for this prestigious award will be assessed for their current practices and relationships — an extremely valuable learning opportunity!
In addition to being honored at the Roads and Streets Conference the winners will
Receive recognition from several industry associations.
Be recognized as a leader in partnering excellence.
Receive feedback regarding strengths and opportunities that will drive improved effectiveness.
Have the opportunity to network with peers in the industry committed to partnering excellence.
Know that they have contributed to the continuous improvement of partnering as a business process.
 
What are the award categories?
Eligible projects include those that have utilized a formal partnering process and will be able to show a relationship to transportation.
Construction
Roadway (under $5M; $5M-$25M; over $25M): The project included one or more of the following: highways/state routes, freeways, roads and streets - including reconstruction and expansion or widening of existing facilities, bridges, interchanges, overpasses, or road tunnels.
Other Transportation Infrastructure (under $5M; $5M-$25M; over $25M): The project contains elements that enhance the transportation system(s) such as: airport, bus/transit, drainage/flood control system, rest areas, tunnels (other than roadway), ports of entry, rail, Intelligent Transportation System (ITS), non-recreational multi-use paths (part of an overall system) or pedestrian bridges.
 
Nonconstruction
Planning/Development/Design: The project can include planning studies; scoping, design and environmental documents; Tier I study; plans complete to the percent stage required in contract.
General Partnerships: Multiple organizations using the elements of partnering processes to achieve positive results related to a work environment that supports the transportation industry. Examples include public and agency partnerships among and between DOTs such as:

Local, state and federal agencies
Subcommittees and/or work groups under the partnership
Counties, tribes
Non-government stakeholders such as utilities or private organizations
Members and work units of the same organization, internal or external
What projects are eligible?
The Partnership must be transportation related.
An organization may submit multiple award submittals; one project per submittal.
Construction
Substantially complete and ready for use by December 31, 2022.
Previously submitted construction projects are not eligible.
Construction Manager at Risk, Design Build and Job Order Contracting are eligible under the Construction category only.
Planning/Development/Design
Documents and plans completed by December 31, 2022 to the percent stage required by contract.
General Partnerships
Partnerships with substantially completed goal(s)/outcome(s) finished by December 31, 2022 are
eligible to apply.
Subcommittees of a General Partnership are eligible to apply if all requirements are met.