Adopt a Highway volunteers put up big numbers in 2017
Adopt a Highway volunteers put up big numbers in 2017
PHOENIX ­­­– Almost 1,500 miles of landscape cleaned along state highways. Fourteen-thousand bags of trash collected. Half a million taxpayer dollars saved.
That's what nearly 11,000 volunteers wearing lime-yellow vests accomplished in 2017 through the Arizona Department of Transportation's Adopt a Highway program.
With many other highway stretches available for adoption, even more can be accomplished in 2018.
"As a frontier state, Arizona has a long history of self-sacrifice and volunteerism, and these impressive numbers illustrate those values," ADOT Director John Halikowski said. "Highways provide a first impression of Arizona for many visitors, so we all owe a debt of gratitude to those who are investing time and effort through Adopt a Highway."
Regardless of how many people volunteer for Adopt a Highway, Halikowski said, everyone has a responsibility for keeping Arizona litter-free.
"We have to continue changing the culture until everyone instinctively knows that littering is absolutely unacceptable," he said.
Volunteer groups can apply for two-year permits to adopt highway stretches using an application available at azdot.gov/AdoptAHighway. Highways are available in ADOT engineering and maintenance districts around Arizona, and each district has someone available to help groups make selections.
Those accepted for the program get their own instantly recognizable blue sign featuring the name of the organization or group. Groups are expected to clean their stretches of highway at least three times a year.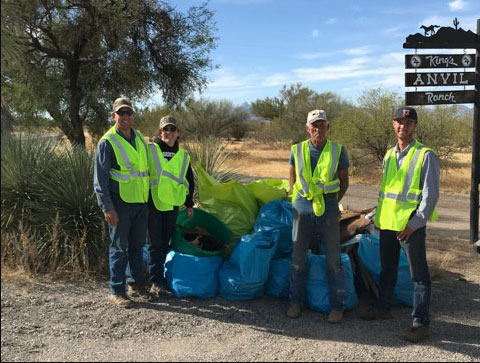 Volunteers must be at least 12 years old, and cleanup crews should consist of six to 10 people. Groups schedule their cleanups ahead of time with their local ADOT districts, which provides trash bags, scheduled collections and safety training.
Adopt a Highway also has a sponsorship program through which businesses use ADOT-approved providers to clean up along busier highway stretches that tend to attract more litter. Participants in the sponsorship program can have their names and approved logos on blue Adopt a Highway signs.
Mary Currie, who oversees Adopt a Highway volunteer programs, said volunteers include those drawn to service, including retirees, civic organizations and faith groups, as well as families who adopt in memory of a loved one who has passed away. Volunteers tend to have two characteristics: a lot of drive and a love of the outdoors.
"It's not easy working under the Arizona sun," Currie said. "But it's a great way to get exercise and have fun with friends, family or colleagues while providing an invaluable service to Arizona."
More information on Adopt a Highway opportunities is available at azdot.gov/AdoptAHighway.