ADOT's commercial truck safety course boosting efficiency and safety
ADOT's commercial truck safety course boosting efficiency and safety
NOGALES – Drivers in Mexico who have completed innovative safety instruction offered by the Arizona Department of Transportation are proving far less likely to be flagged for safety violations when their vehicles arrive at international ports of entry.
It's a dramatic improvement that's saving international carriers time and money, making Arizona roads safer and helping Arizona better appeal to drivers who might otherwise use ports in California or Texas.
In December, the 106 drivers with International Border Inspection Qualification training who entered the U.S. through commercial ports operated by ADOT's Enforcement and Compliance Division did so without a safety violation that required taking their trucks out of service for repairs.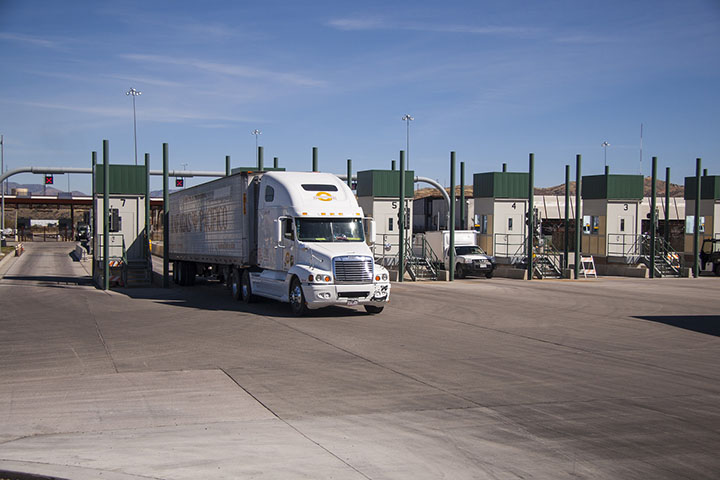 Since August when the program began training drivers in Mexico, just two of 667 qualified drivers – 0.3 percent – have entered Arizona with a violation that required immediate repairs. The rate is about 5 percent among other commercial drivers using ADOT's international ports.
Through ADOT's International Border Inspection Qualification, the first such program in the U.S., Enforcement and Compliance Division inspectors made eight trips into Mexico in 2017 to educate international truck drivers and company leaders about safety requirements for trucks driving on Arizona roads. More training is scheduled in Mexico for 2018, including three sessions  in February.
"This outstanding program has been great both for Arizona and for our neighbors in Sonora," ADOT Director John Halikowski said. "In addition to making roads across Arizona safer, we are reducing inspection times and making Arizona's international ports more appealing to commercial carriers."
The class has the support of Sonora Gov. Claudia Pavlovich and Mexican trucking leaders.
ADOT inspectors check every commercial truck entering the U.S. at Nogales, Douglas and San Luis for safety violations. The most serious violations require that trucks remain at the port of entry until repairs can be made, a costly process that can cause significant delays for commercial carriers.
In addition, drivers who complete the International Border Inspection Qualification can use the Whats App smartphone app to contact inspectors with questions before they approach the border. That allows companies to make needed repairs more economically before drivers get on the road.
Another benefit of the program: More drivers are choosing to enter the U.S. through Arizona's ports instead of those in other states. Meanwhile, being able to focus on higher-risk vehicles has allowed ADOT officers to find more violations despite needing to conduct fewer high-level inspections.
"More trucks entering the country in Arizona means an even greater boost to our economy," Halikowski said. "Those drivers use more services and buy more items in our state, which helps not only border communities but all of Arizona."
The International Border Inspection Qualification program stems from ADOT's use of the Arizona Management System championed by Gov. Doug Ducey. This approach to continuous improvement empowers employees at state agencies to come up with innovative ways to better serve customers.