ADOT's commercial truck training saves drivers time, money
ADOT's commercial truck training saves drivers time, money
NOGALES – More than 1,300 truck drivers from Mexico have now completed training from Arizona Department of Transportation safety inspectors through an innovative program that is making Arizona's inspection process more efficient and Arizona roads safer.
That number includes drivers trained at Arizona border ports of entry in Douglas, Nogales and San Luis, as well as about 320 drivers trained in a unique two-day training program at locations in Mexico. More than 30 additional drivers are expected to attend a training session in Nogales, Sonora, in the first week of April.
"The large numbers of drivers from Mexico who continue to ask for safety training from our officers is a testimony about how important and how effective this program has become in less than two years," said Tim Lane, director of ADOT's Enforcement and Compliance Division.
ADOT's Border Liaison Unit began conducting classes in fall 2016 to educate truck drivers and company leaders from Mexico about safety inspection requirements for drivers who cross the international border. These half-day classes, held in Arizona, address such things as acceptable tire wear and securing loads.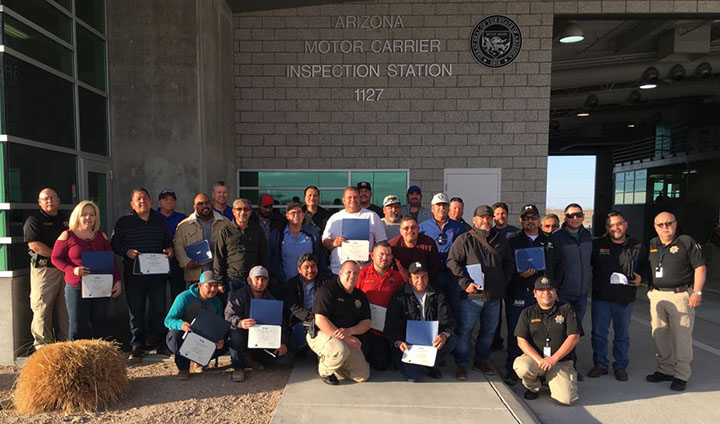 On July 31, 2017, inspectors began taking the classes to convenient locations in Mexico to reach even more drivers. International Border Inspection Qualification classes in Mexico take two days and require drivers to pass written and field exams to become qualified.
Qualified drivers earn the right to contact inspectors using a smartphone application, WhatsApp. Drivers can send photos and ask questions before approaching the border so they can make any needed repairs more conveniently and more affordably on their own property. So far, 83 drivers have communicated with inspectors using WhatsApp, and 75 have used the information to prevent their trucks from being removed for service for repairs.
The classes are popular with the Mexican trucking industry. In February drivers from Mexicali, Baja California, travelled about 100 miles to take part in the IBIQ program in San Luis. Other classes have been held as far south as the Sonoran capital of Hermosillo.
The impact of the program has been dramatic. Historically, about 5 percent of drivers who enter Arizona from Mexico have their trucks stopped at the border for needed safety repairs. But among IBIQ qualified drivers, trucks have been stopped just eight times in about 2,400 border crossings – about one-third of 1 percent.
In addition, Arizona inspectors can focus their efforts on higher risk trucks, such as those with a history of violations and those with non-IBIQ drivers. That resulted in more safety violations discovered despite fewer intensive 37-point inspections.
"We are stopping unsafe trucks from driving on Arizona roads, but at the same time we are encouraging international commerce by not unnecessarily delaying trucks by qualified drivers," Lane said.
ADOT Director John Halikowski praised the program as an example of binational collaboration that benefits both Arizona and Sonora. That collaboration also led to the creation of Mexico's first safety corridor on the road from Arizona to Rocky Point, Sonora. Mexico implemented the safety corridor March 5 after getting traffic incident management training from ADOT leaders.
The International Border Inspection Qualification program stems from ADOT's use of the Arizona Management System championed by Governor Doug Ducey. This approach to continuous improvement empowers employees at state agencies to come up with innovative ways to better serve customers.