A bright idea creates better highway message boards at a reduced cost
A bright idea creates better highway message boards at a reduced cost
PHOENIX ‒ A bright idea by Arizona Department of Transportation employees delivers clearer messages on overhead electronic signs along state highways, while saving taxpayer dollars.
As part of ADOT's commitment to continuous improvement, employees developed a retrofit kit to replace old halogen light bulbs with state-of-the-art LED lighting for message signs that provide drivers with information about highway conditions, incidents and travel times. Such an improvement, referred to in continuous improvement as kaizen, reduces waste, improves safety or, in the case of this employee-driven idea, accomplishes both.
"The LED system is a brighter, clearer light, so it's easier to see the signs and read the messages," said Chuck Hill, ADOT traffic signals and lighting supervisor.
Rather than replacing an older message board when the need arises, at a cost of $300,000, ADOT crews replace the original halogen bulbs and mechanical shutters that had been used to create messages. The cost for a retrofit is significantly lower, at about $42,000 per message board.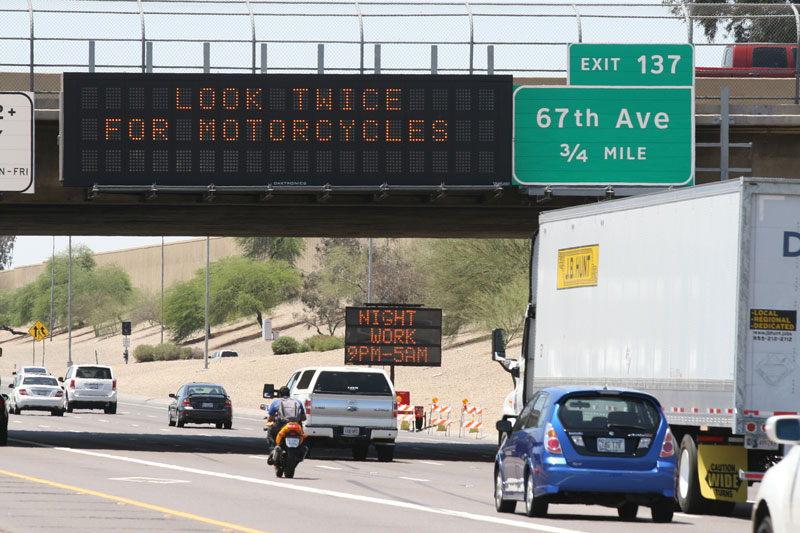 The retrofit kit, in use since 2014, also replaces wiring and upgrades the message board's control box.
Each upgrade replaces 20-year-old technology that requires monthly maintenance. In addition, the maker of the existing boards has gone out of business, so no replacement parts are available.
The LED system uses 60 percent less energy, resulting in an annual savings of about $1,000 per sign.
Forty-five message boards in the Phoenix area have been retrofitted since 2014, and many other signs around the state have received or will receive the upgrade.
As ADOT retrofits message boards, drivers get clearer messages delivered by more reliable signs.