Working together to accomplish more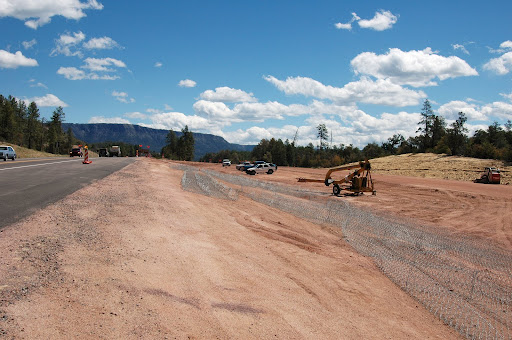 Instead of holding their annual meeting in a conference room, key stakeholders in one of ADOT's oldest partnerships took a bus tour through the Tonto National Forest to get a close look at the projects made possible by their collaboration.
And, I was lucky enough to tag along!
ADOT is involved in many partnerships, but this one is between ADOT (we build the roads), the Federal Highway Administration (they provide some of the funding) and the Tonto National Forest (they care for the forest through which some ADOT roads travel). For more on what a partnership entails, just check out this recent blog post.
On May 10, the bus left Mesa early in the morning and headed north on State Route 87.
First on the agenda: a roadway improvement project spanning about five miles between New Four Peaks and Dos S Ranch roads. Some good news for motorists … work on this one is nearly complete! In fact, ADOT crews were scheduled to remove all major traffic restrictions on SR 87 by May 14. Joel Mona of the Tonto National Forest gave an update on the $11.8 million project that started last summer and includes the addition of a third southbound lane to enhance safety and traffic flow.
The next project we came across was about two miles north on State Route 87, also known as the Beeline Highway or Duthie-Martin Highway. This part of the project called for crews to repair some slopes and ditches and reinforce a few embankments.
By the way – any idea on what a 'rock wattle' is?
It's a funny name, but actually a useful feature that ADOT used for the first time on this project. A rock wattle is a layer of rocks placed on a slope that helps slow and direct water runoff. Straw wattles are sometimes used for the same purpose.
Next, we passed through Payson and headed on to Little Green Valley, a three-mile section of State Route 260 that started out as two lanes, but is being turned into a four-lane divided highway. Work started in summer 2009 and should be done by this fall.
Challenges on this part of the project have highlighted why the partnership is so valuable.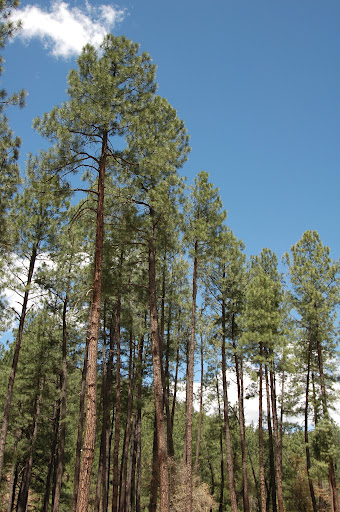 Partnering paved the way to a unique agreement between ADOT and the Tonto National Forest regarding water needed for the project construction. ADOT worked with the forest officials to drill wells on forest land for use on projects along SR 260. The agreement outlines how ADOT will eventually recharge those wells to levels within one foot of where they were when the project started.
ADOT Facilitator Bonnie Opie said every project will have issues, but it's the way those issues are resolved that can make a project great.
"The partnering process provides teams with the tools they need to resolve issues in a productive manner," she said.
Rounding out the day was a trek through Doubtful Canyon, just east of Little Green Valley. This project will construct three miles of divided four-lane highway. Work is scheduled for completion by fall 2012 and includes six concrete bridges, improved drainage and additional fencing to protect elk and other wildlife.
The trip back to Mesa gave everyone on the tour a chance to talk about how this partnership has positively impacted the projects seen during the day.
But, Karla Petty, administrator of the FHWA Arizona division, might have summed it up best very early on in the trip when she mused on why partnerships work and said simply: "We can get more done by working together."