Reconstruction of I-17 traffic interchange at Munds Park nears completion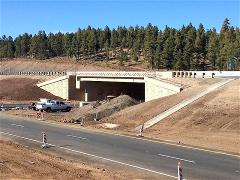 Winter is coming…
Maybe that's hard to believe if you live in hotter regions of the state, but residents up north already are starting to experience chillier temperatures.
And – as ardent readers of this blog may know – when freezing, cold weather hits, many of ADOT's northern Arizona projects go on hiatus.
Before that happens we wanted to check in on a project about 20 miles south of Flagstaff.
A little bit of background…
ADOT began construction in spring 2011 to reconstruct the bridges and ramps on I-17 at Munds Park. The first phase of the project, which included the reconstruction of the northbound I-17 bridge and ramps, was completed last year.
The second phase of the project started in March 2012 and now is winding down. This phase includes reconstructing the southbound I-17 bridge and ramps, as well as the realignment of Pinewood Boulevard (the street that runs underneath the I-17 bridges).
This project gives motorists two new bridges each measuring 100-feet long – they were just 25 feet to begin with. The increased length accommodates a wider Pinewood Blvd and a 10' sidewalk for pedestrian traffic. The new bridges are wider, too. This will help to accommodate traffic and an eventual third lane (in each direction) planned for I-17.
The upgrade is necessary to handle increased traffic levels – the old bridges were built in 1958 and back then there wasn't much development (and not a lot of traffic) in Munds Park.
Where we are now
Both new bridges are built and the old bridges are gone!
Northbound and southbound traffic had been sharing the northbound lanes for this phase of the project, but just last week southbound traffic was rerouted back to the southbound lanes (northbound traffic stays on the northbound lanes).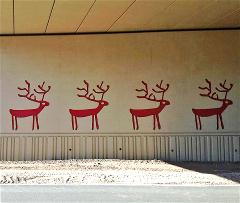 There is still some work to be done, so traffic is restricted to one lane in both directions during the weekdays. The restrictions are generally lifted during weekends allowing traffic to flow in two lanes each direction.
A few of the things crews currently are working on includes, guardrail, lighting, rock fall protection and finishing up the improvements to Pinewood Boulevard.
Work will continue (depending on the weather) through the middle of November … that's when crews will shut down for the winter.
The project will be essentially finished at that time, but crews will return in summer 2013 to apply the top layer of asphalt pavement when weather conditions are ideal for that work.
Resident Engineer Adam Umholtz reminds drivers to be aware in the work zone as crews are finishing the project, especially as winter storms start rolling in.
"Be patient and observe the posted speed limits and traffic controls through the project," he said. "Winter is coming our way and we are out there trying to make it a safe road for the whole winter."