Highway crews rely on training and experience to deal with extreme heat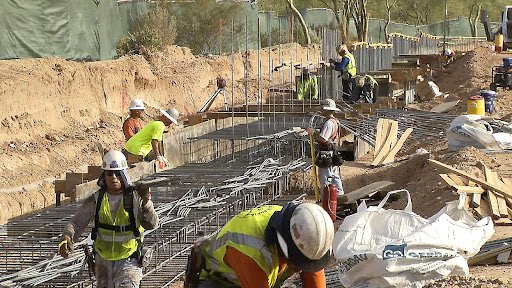 We probably don't need to tell you this, but it is really, really hot out there …
A lot of us are lucky to work indoors during the warmest parts of the day (thank goodness for air-conditioning!), but here at ADOT many employees are stationed outside to work.
That is why ADOT and its workers take every precaution to prevent heat-related illness, particularly when temperatures hover well over 100 degrees. As you can imagine, heat-related injuries are a potential hazard for ADOT crews across the state. On asphalt or concrete, temperatures often soar 15 to 20 degrees above the air temperature!
ADOT trains its employees to know that exposure to summer heat can be life threatening if not treated properly. Highway workers are taught to monitor themselves and their co-workers for signs of heat-related incidents and to use common sense when working out in the hot sun.
"As highway and construction workers, we must be prepared to work in the elements every day," said Granite Construction Safety Manager Mike Flynn, whose construction company has worked on several ADOT projects. "It is imperative our employees are trained both mentally and physically in the hazards of being out in the heat. Everyone must recognize and act upon signs of heat stress, not only for yourself, but also with your fellow workers."
According to the U.S. Department of Labor's Occupational Safety and Health Administration, the main federal agency charged with the enforcement of safety and health legislation, each year thousands of outdoor workers experience serious heat related illnesses such as heat exhaustion. If they're lucky, someone recognizes the symptoms fast enough to move them out of the heat, give them water and help cool them down. If not, heat exhaustion can lead to heat stroke. For 2010, the U.S. Bureau of Labor Statistics reports that 4,190 workers nationwide suffered from heat illness and 40 died from heat stroke and related causes on the job.
Heat safety training is a critical task for ADOT's Health and Safety Office. Workers who are exposed to high temperatures are required to complete a heat stress training class.
They learn to know the signs and symptoms of heat injury, and to observe proper work practices. That includes drinking enough fluids, taking adequate rest breaks, wearing protective sun gear and knowing first aid procedures for treating heat illnesses. In addition, ADOT offices involved in highway work across the state conduct their own "Safety Stand Down Days" to review heat and other safety issues.
Through successful use of heat stress training and other methods, only seven ADOT employees have been treated for heat-related illnesses since 2009.
In addition to training, ADOT uses various strategies to mitigate the effects of the heat:
Projects are usually started earlier in the day before the hottest hours in the afternoon.
Workers use a 'buddy system', where they are responsible for observing fellow co-workers for early signs and symptoms of heat disorders.
Summer standards include switching some paving to nighttime shifts once daytime temperatures reach 100.
Retrofitting highways with one inch overlays of temperature-sensitive rubberized asphalt is typically avoided during the hottest months of the year.
Employees who have not been working in hot environments are recommended to have at least a 7 to-10 day acclimatization period during which they need to take extra time to rest and replenish liquids.
ADOT has a large supply of safety products for distribution to employees. The Health and Safety Office provides large amounts of sunscreen to employees who work outside. Additionally, the department has access to other sun protection gear, including hard hat sun shades and long sleeved safety shirts.