ADOT launches "Haboob Haiku" challenge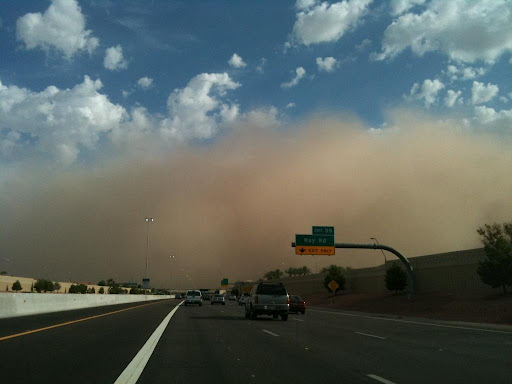 Our mission this week is massive and we've got to admit, we are going to need a little help.
We're trying to spread the word on monsoon and dust storm safety and we want to reach as many people as possible, which is where you come in!
After kicking things off yesterday with some driving tips and that cautionary video, we're launching a "Haboob Haiku" challenge on Twitter today and we'd like you to help us educate others.
Let us explain.
Besides being fun to say, 'haboob' is another word for a dust storm and a Haiku is a type of poetry that conforms to a certain syllable structure.
Put them together and you've got a Haboob Haiku!
Haikus are traditionally written in three lines – the first line consists of five syllables, the second line has seven and the third line ends with five. Usually these poems are focused on just about any subject, but for our challenge we want you to stick with Haboobs, dust storms and our safety theme (remember "Pull Aside, Stay Alive" from yesterday's post?).
Ready for a few examples to get things started?
Dust cloud approaching:
The air becomes thick and brown.
Pull over and wait
Haboob engulfs you –
Vision obscured and hazy –
Exit the roadway.
Drive with care in dust
Pull aside and stay alive
Wait for dust to pass
Dust storms mean danger
Zero visibility
Pull over and wait
We'd like you to post your Haboob Haiku creations on Twitter and include the hashtag #HaboobHaiku.
Be sure to share with your friends and let them know what it's all about. After all, our No. 1 goal is safety and we want to reach as many Arizona drivers as we can to help them prepare for the monsoon and dust storm season ahead ... but who says we can't have a little fun, too? We're excited to see what you all come up with!!