Future female engineers get an up-close look at Loop 303 construction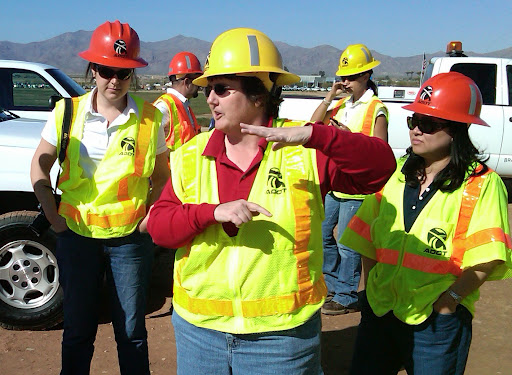 By Laura Douglas
ADOT Office of Public Information
In the transportation industry, one of the greatest ways to connect with the future now is to watch a construction project take shape.
A project begins with a crude framework. But every day it grows with additions of wood, metal, concrete and materials.
Every day it looks a little different and edges closer to completion. Until one day it looks like a freeway or a bridge or an interchange—and you can see where the future leads.
It's tangible progress.
The same can be said for mentorships—and molding the next generation of female transportation professionals. It's about connecting with the future now.
During a recent visit to the Loop 303 corridor, a group of women representing different transportation agencies around the Valley and the Women's Transportation Seminar hosted a group of young women from local high schools to show them progress in action. The girls are all interested in pursuing careers in engineering and transportation. Their tour of the Loop 303, which was led by the Arizona Department of Transportation, is part of a mentorship program between transportation professionals and students.
"I like being an active person and getting involved in hands-on projects," said 16-year-old Erika Banuelos, who attends North High School in Phoenix. "I can't imagine myself working in an office. I want to design and visualize a project."
Banuelos, who is interested in pursuing civil engineering or aviation as a career field, was able to put on a hard hat and vest and watch as ADOT crews worked on a bridge pier for the future Loop 303/Interstate 10 interchange in Goodyear. The tour group then traveled north along the entire Loop 303 corridor, which stretches for 39 miles, stopping at several locations along the way.
"A tour like this helps the students understand what civil engineering is all about," said Julie Kliewer, Phoenix Construction District Engineer and the leader of the Loop 303 tour. "This is a field where you can actually put your hands on what's being built. And I think it helps them to see other women in the field and see their passion in their work. That's how we often get our passion—from the passion of others."
These future engineers are encouraged to pursue STEM studies now, which focus on science, technology, engineering and math. They are also paired up with female transportation professionals as part of the WTS Phoenix Chapter's Transportation YOU program, a hands-on, interactive mentoring program that offers young girls ages 13 to 18 an introduction to a wide variety of transportation careers.
Banuelos, who is involved in the WTS' Transportation YOU program, is one of two Arizona students who were selected to participate in the D.C. Youth Summit last month in Washington, D.C. The conference is designed to inspire, train and prepare young women for a future in STEM studies and a career in the transportation industry. Banuelos' mentor is Hillary Foose from METRO Light Rail. ADOT State Engineer Jennifer Toth and her mentee Britton Hammit were also selected to attend the conference.
Banuelos says she's already working on her STEM studies, and adds that a trip out to the Loop 303 construction site is where education meets real-world experience.
"Construction was always considered a man's job. But that's going to change," said Banuelos, whose father has worked on Valley freeway construction projects. "More women are going to take part in construction and other engineering jobs."
The Loop 303 tour ended with a drive through the completed 14-mile stretch from Happy Valley Parkway north to I-17. Kliewer, who enthusiastically pointed out every accomplishment along the way, said there will always be something exciting to build—it's tangible and it's progress.
"I've spent 29 years as an engineer and I still love it," said Kliewer. "The great thing about my job is that it's always challenging—there's nothing routine about it. And I like sharing my knowledge with others."