From the Archives: Photogrammetry and Surveying
ADOT has been constructing roads in Arizona for a long time, but technology and methods sure have changed along the way.
Want some proof? Just look at these photographs!
Taken in the 1960s and 1970s, the pictures illustrate how ADOT handled surveying and photogrammetry back then (to see how it's done today, check out this blog post and this Web page).
To be honest, when we first saw these photos, we weren't quite sure what the equipment was. So, we asked some of our experts from ADOT's Engineering Survey section to explain…
According to Photogrammetry Supervisor Rik Glenn, the men in the photo above (which was taken sometime between 1960 and 1962) are working on a Mylar map – something that's no longer used.
"Mylar maps were hard to store, as they take up a lot of room, compared a CD or DVD, which is what we use today," Glenn said.
What they're working on looks similar to what modern ADOT employees work with – those contour lines on the Mylar map are the same types of lines you'd see on the digital maps of today.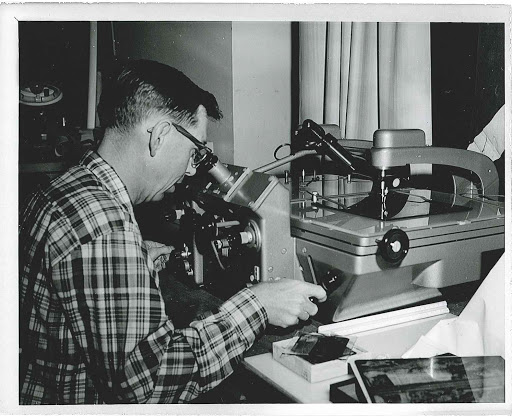 Glenn points out the pair of photos and the stereo glasses that are sitting on top of the map. He also notes that the picture on the wall behind the men is a photomosaic, which is what's created when you take a series of photos to create a large photo. Glenn says today we create Orthophotos, which are very accurate.
In the photo to the right (snapped April, 3 1970), you can see someone working with a stereocomparator.
Glenn explains this piece of equipment would have been used to make maps after aerial photos were taken.
"The instrument was used to make holes on a diapositive so they could be read in 3D stereovision. A diapositive is the opposite of a negative, so white is white and black is black, unless it is a color photo," Glenn said.
Once the holes were made for a strip of film, measurements would be taken so maps could be created in stereovision.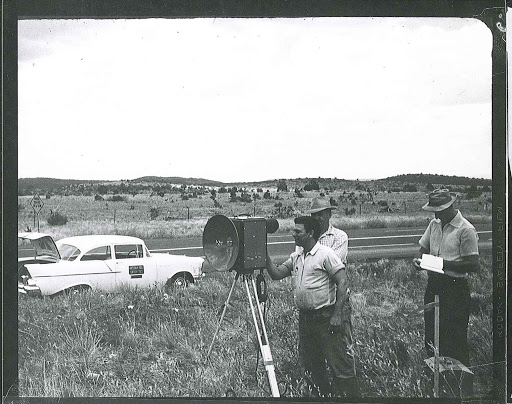 In the final photo (taken 1960-1962) we're seeing work being done out in the field. According to Field Survey Manager Virgil Coxon, the equipment shown is a little outdated by today's standards and typically not used anymore.
The men are using a microwave distance measuring unit and, like the name implies, it uses microwaves (the radio wave, not the oven) to determine distance. Two of the units would have been used to measure between two points.
Coxon says the microwave distance measuring unit has been replaced with GPS (Global Positioning System), Total Stations and 3D Laser Scanners.
"These current technologies allow our surveyors to collect map-worthy topographic features in seconds without having to perform trigonometric operations which allow for potential errors," said Coxon, adding that as technology advances, ADOT implements the best practices in the field.
It's safe to say things have changed since 1912 when the Arizona Highway Department was first established. But you don't just have to take our word … we've got plenty of pictures to prove it. We combed through our archives and decided to periodically post these photos from the past in a blog series we're calling, "From the ADOT Archives."