ADOT's Twitter account offers more than just trip tips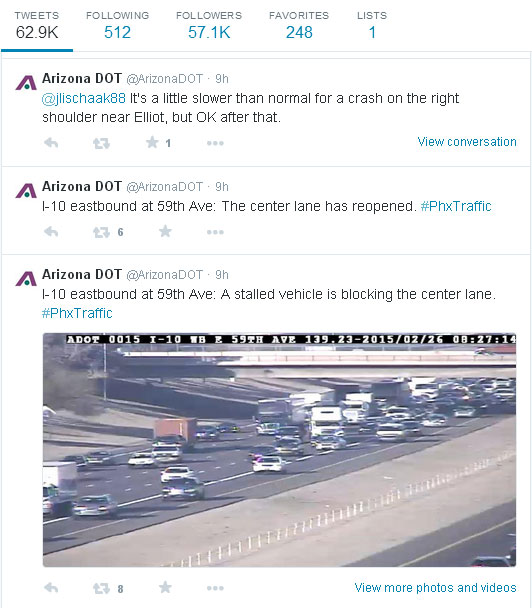 By Doug Pacey
ADOT Office of Public Information
The Arizona Department of Transportation enthusiastically maintains an active, award-winning Twitter presence. @ArizonaDOT provides real-time traffic conditions to help the traveling public safely and swiftly navigate Arizona's highways.
We do much more than dish out trip tips and road routes. We interact personally with many of our 56,000-plus Twitter followers, helping them navigate the MVD, providing answers on current and future highway projects and even once assisted in determining a fantasy football lineup. Because we're often asked variations of similar queries, we thought it might be helpful to round up those questions below.
Hi, how does I-10 look between Phoenix and Tucson?
The most popular request is some variation of this – insert any highway and two locations. We're always happy to provide up-to-the-moment conditions on your favored travel route. But because we sometimes get slammed with traffic incidents or weather events and our Twitter feed blows up, we might miss a mention. In the rare instance that might occur, our Travel Information Site can advise of traffic restrictions and, depending on where you're traveling, can even give you a real-time look at traffic conditions via ADOT's network of traffic cameras.
How are my Arizona vehicle registration fees calculated?
First, there are set fees, such as the $8 registration fee and $1.50 air quality research fee. Then, there is the Vehicle License Tax (VLT), which varies and is determined by the value of the vehicle.
Bonus: If you want to renew your vehicle registration, change your address with the ADOT Motor Vehicle Division, order a replacement driver license or complete a slew of other MVD services, visit ServiceArizona.
What the heck is the Stack and where is it?
The Phoenix metro area has a handful of nicknamed transportation landmarks, including the aforementioned Stack – that's where I-10 and I-17 meet just west of downtown Phoenix. You might have also heard of the Split, Mini-Stack, North Stack, Broadway Curve, Durango Curve and the super-clever SuperRedTan, an amalgamation of nearby freeways. It can be confusing for newcomers and Valley natives, so we created this map that details the locations and background behind the nicknames.
Is there snow in Flagstaff? What about blowing dust between Phoenix and Tucson?
You can get a firsthand look at the weather around the state by viewing traffic and weather cameras at our Travel Information Site. We also suggest following our friends at the National Weather Service – @NWSPhoenix and @NWSFlagstaff – on Twitter. They're helpful, active tweeters, too!