After a crash use quick clearance and stay safe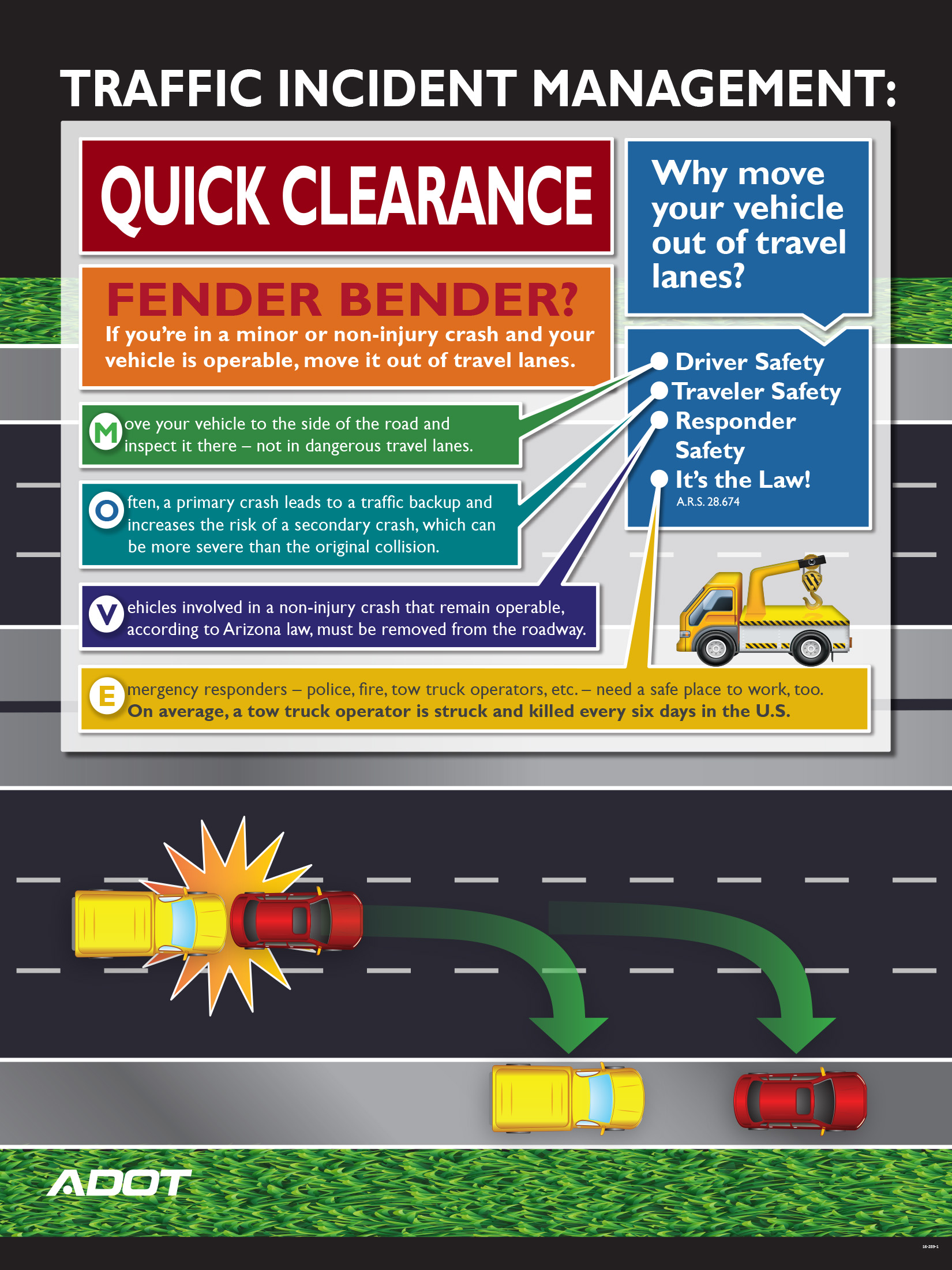 By Doug Pacey / ADOT Communications
Do you know what to do if you're in a freeway fender bender?
It's a situation no one wants to experience, but with a vehicle crash occurring about every five minutes in Arizona, it's important to know how to stay safe following a minor, non-injury collision.
The answer is: Quick Clearance.
What's that?
Quick Clearance is the practice in which drivers involved in minor crashes that don't involve injuries get their vehicles, if they are operable, out of travel lanes as soon as it's safe to do so.
Not only is Quick Clearance a state law, but quickly moving your vehicle out of travel lanes provides a safer environment to inspect your car for damage. Moving your vehicle to the emergency shoulder or median, or exiting the highway, also provides a safer environment for first responders and keeps travel lanes clear for other vehicles, reducing the chance of a secondary collision.
ADOT and the Arizona Department of Public Safety are promoting Quick Clearance as part of a nationwide effort among transportation, law enforcement and other first responder agencies and organizations during National Traffic Incident Management Week (Nov. 13-19). On Wednesday and Thursday, many overhead highway signs statewide will display the following message:
FENDER BENDER?
SAVE YOUR REAR
AND QUICKLY CLEAR
If you are involved in a crash, the first action to take is to make sure you and occupants in your vehicle are OK. Then, if your vehicle is operable, move to the emergency shoulder, median or exit the highway and call 911. Stay out of travel lanes, be alert and watch approaching traffic. Remember: Never leave the scene of a crash.