Driving through a modern roundabout doesn't have to be confusing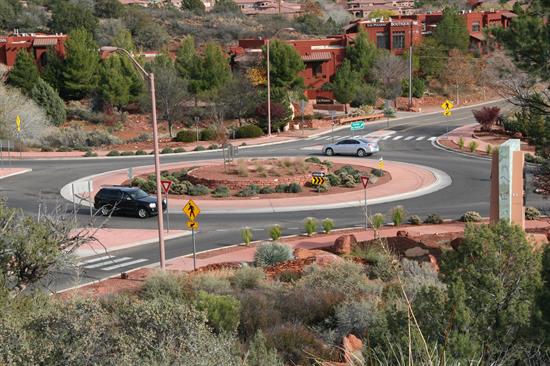 By Gant Wegner / ADOT Communications
With the summer travel season underway, more of us will be driving around Arizona to enjoy the state's beauty and recreational opportunities. That means potentially driving on unfamiliar roads and encountering a different style of traffic intersection called a roundabout.
A modern roundabout is a circular intersection without traffic signals. It is designed to reduce crashes and improve the flow of traffic.
You will find roundabouts in many places around Arizona, including the Interstate 17/Happy Valley Road interchange in north Phoenix, the connection between Interstate 17 and State Route 89A south of Flagstaff, in the popular tourist corridor of Oak Creek and Sedona, on US 89 in Page and US 95 in San Luis, and on the north side of Payson along State Route 260.
Roundabouts work best when motorists follow a few rules and drive with care. For example, you should slow down to the posted speed limit, and signal your turn when entering and exiting a roundabout so other drivers know your next move.
You can learn about why we build them, and if you're still looking for more, you can visit the roundabout page on our website.
And check out the video below for tips on using roundabouts.