Five ways to make Arizona's highways safer for everyone - especially you
Doug Pacey / ADOT Communications
Across the country, departments of transportation are in the midst of marking – "celebrating" doesn't feel like the right word – National Work Zone Awareness Week.
The Arizona Department of Transportation is no different. Safety is our top priority – for our workers and the public – and this week gives us the opportunity to feature some tips to make work zones along Arizona's highways safer for everyone, especially you.
First, we're incredibly grateful to the work performed by our construction and maintenance crews in the field. These men and women expose themselves to risk every day in an effort to maintain and improve the traveling public's driving experience. Just check out this close call ADOT's video team happened to catch on camera:
The video shows that work zones can be a perilous place for workers, but did you know they are far more dangerous for motorists? Nationally, drivers and passengers account for about 80 percent of all work zone-related crash fatalities each year, according to the Federal Highway Administration. In Arizona, there were 1,209 work-zone crashes in 2014 that resulted in 11 deaths – all of whom were a driver or passenger.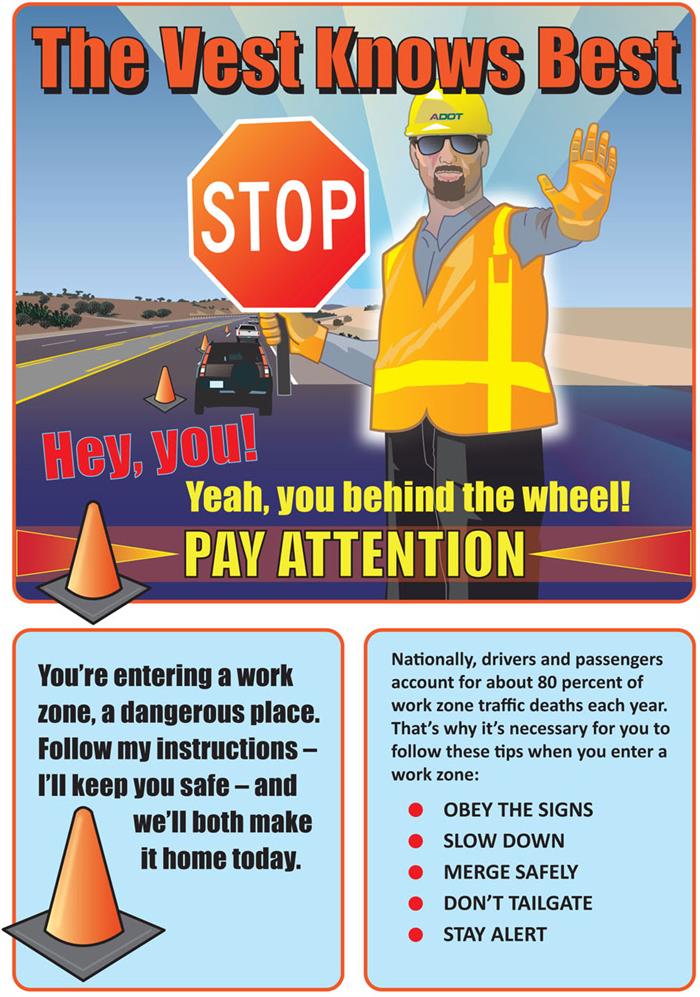 Follow these tips when traveling through a work zone, to ensure a safe trip for motorists and a safe day of work for highway maintenance workers.
Pay attention: Observe and obey posted warning signs, as well as flaggers. You can be cited for disobeying a flagger's directions.
Expect the unexpected: Speed limits might be lowered, travel lanes could be narrowed or eliminated and people may be working near the road.
Slow down: Speeding is one of the leading causes of work zone crashes.
Merge safely: Do it early instead of racing to the beginning of the work zone and barging into a line of vehicles.
Don't tailgate: The most common crash in a work zone is the rear-end collision. Don't follow too closely and, again, slow your speed.