See how more people are avoiding lines at MVD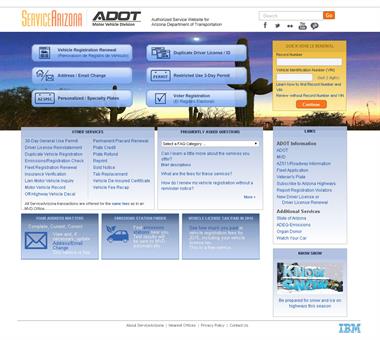 On the day that ServiceArizona first launched – Nov. 13, 1997, for all you ADOT history buffs – there was only one Internet-savvy customer who used the website to renew a vehicle registration online.
Now, more than 18 years later, thousands of motorists log on every single day to quickly and easily complete a number of MVD-related transactions.
To give you an idea of just how popular the site has become, we dug into some stats and can tell you that out of 3.7 million vehicle registration renewals that were completed in Arizona during 2015, a whopping 60.2 percent of them – roughly 2.2 million – were handled online through ServiceArizona.com.
That's twice as many as 10 years ago when the number of online renewals was almost 1.1 million.
An impressive increase … but why are we telling you all this?
We want to reach out to those of you who aren't using ServiceArizona yet – those who may not know about the site or those who might assume it's difficult to use (it's totally not). We want to let you know that the site offers you the ability to conduct a number of transactions without ever having to visit an MVD office (that means no standing in line!). Most importantly, we want to tell you what so many already know, that ServiceArizona is fast, easy and secure.
But you don't have to take our word for it. Here are a couple bits of feedback provided by ServiceArizona customers...
"Being military, ServiceArizona is a wonderful tool. It makes being stationed away from my home state a breeze when maintaining my vehicle and driver information."
"AWESOME online tool to renew my car registration!! Fast, convenient, secure, and all online. I love it!"
"The online service was fast, easy, and very convenient. I was able to get what I needed on my lunch break in minutes. I will definitely use the online service in the future."

One more thing about ServiceArizona … we're always looking to add more options while improving on the services already provided. An example of that is a new calendar reminder feature now available to customers who complete a registration renewal online. The free calendar reminder allows you to immediately request that a reminder be placed on your electronic calendar(s) to coincide with your next renewal due date. This is in addition to, and does not replace the email or U.S. mail renewal notice you already receive.
"At MVD, our vision is to get Arizonans out of the line and safely on the road," Motor Vehicle Division Director Eric Jorgensen said. "ServiceArizona.com makes these important transactions more convenient for Arizonans to conduct."
So, do you think you're ready to give the site a try? Visit ServiceArizona.com to get started.