On the Fourth, only sparklers should be lit
By Doug Pacey / ADOT Communications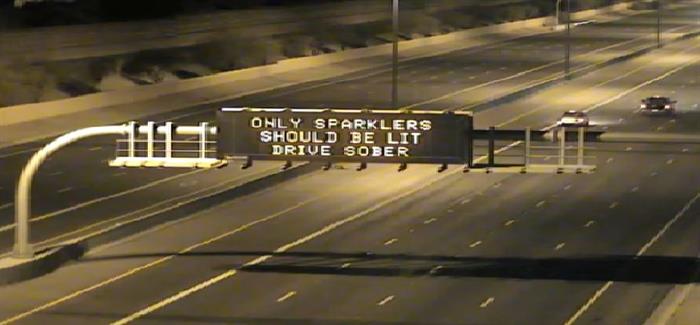 The Fourth of July is all about "F" words – food, friends, family, fireworks, flags and freedom. Too often, another "F" word – fatality – has crept into the holiday's vernacular.
In 2016, the Independence Day holiday weekend saw the most traffic fatalities of any holiday weekend that year. Sixteen people died on Arizona's local and state roads, including nine who were killed in alcohol-related crashes. These impaired driving deaths were entirely preventable.
Don't drive drunk – designate a driver, call a cab or ride service.
To get the message out that impaired driving won't be tolerated, many overhead signs statewide will display the following message:
ONLY SPARKLERS
SHOULD BE LIT
DRIVE SOBER
By the way, speaking of sparklers, please be aware of fire restrictions in your community. Visit the Arizona Department of Forestry and Fire Management's website for information on fire restrictions. Most of Arizona is under Stage I or Stage II restrictions, which prohibit the use of fireworks.