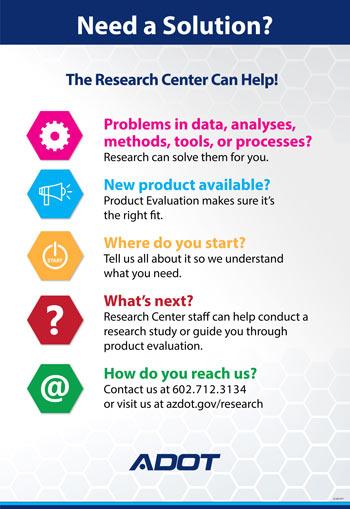 Research Center
The Research Center is dedicated to inquiry and innovation at the Arizona Department of Transportation. The 2022 Research Center Program Manual describes the center's products and processes.
Please Note:  The ADOT Library is closed. Reports published by ADOT and other Arizona agencies, both print and digital versions, are housed at the State of Arizona Library located at 1901 W. Madison Street, Phoenix and the State of Arizona Research Library Catalog website.
In compliance with Arizona Revised Statute 41-151.08, ADOT staff are responsible for submitting completed official reports, public documents, and other publications to the State of Arizona Library: a digital version to [email protected], and two print copies through interoffice mail addressed to Secretary of State, Arizona Research Library, Attention: State Documents Librarian.