Alternative Fuel Corridors
Alternative Fuel Corridors
ADOT Electric Vehicle Infrastructure Deployment Plan
The Arizona Department of Transportation is taking advantage of new federal funding sources and developing a long range plan to implement a statewide network of electric vehicle (EV) charging stations.
Over the next five years, the state is set to receive $76.5 million in federal dollars through the National Electric Vehicle Infrastructure (NEVI) Formula Program to establish publicly accessible EV fast charging stations along Arizona's designated alternative fuel corridors. Current alternative fuel corridors in Arizona include the interstates; but additional corridors can be added in the future.
For more information about ADOT's EV Deployment Plan and to sign up for the mailing list visit: /evplan
Overview
Federal Highway Administration (FHWA) is establishing a national network of alternative fueling and charging infrastructure along national system corridors. FHWA intends to support the expansion of this national network through a process that:
provides the opportunity for formal corridor designations on an annual basis.
ensures that corridor designations are selected based on the criteria that promotes the "build out" of a national network.
develops national signage and branding to help catalyze applicant and public interest.
encourages multi-state and regional cooperation and collaboration.
brings together a consortium of stakeholders including state agencies, utilities, alternative fuel providers, and car manufacturers to promote and advance alternative fuel corridor designations in conjunctions with the Department of Energy.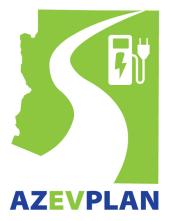 Corridor Designations:
Electric Vehicle (EV)
Hydrogen (HVD)
Propane (LPG)
Liquid Natural Gas (LNG)
Compressed Natural Gas (CNG)
Fuel/Technology
Signage-Ready NHS Segment has...
Signage-Pending NHS Segment has...
EV Charging
Public DC Fast Charging, no greater than 50 miles between one station and the next on the corridor
Public DC Fast Charging or Level 2 chargers separated by more than 50 miles
Hydrogen
Public hydrogen stations no greater than 100 miles between one station and the next on the corridor
Public hydrogen stations separated by more than 100 miles
Propane
Public, primary propane stations no greater than 150 miles between one station and the next on the corridor
Public, primary propane stations separated by more than 150 miles
CNG
Public, fast fill, 3,600 psi CNG stations no greater than 150 miles between one station and the next on the corridor
Public, fast fill, 3,600 psi CNG stations separated by more than 150 miles
LNG

 

Public LNG stations no greater than 200 miles between one station and the next on the corridor
Public LNG stations separated by more than 200 miles
For more information:
For a list of alternative fuel stations:
Contact: