Alternative Fuel Corridors
Overview
Federal Highway Administration (FHWA) is establishing a national network of alternative fueling and charging infrastructure along national system corridors. FHWA intends to support the expansion of this national network through a process that:
provides the opportunity for formal corridor designations on an annual basis.
ensures that corridor designations are selected based on the criteria that promotes the "build out" of a national network.
develops national signage and branding to help catalyze applicant and public interest.
encourages multi-state and regional cooperation and collaboration.
brings together a consortium of stakeholders including state agencies, utilities, alternative fuel providers, and car manufacturers to promote and advance alternative fuel corridor designations in conjunctions with the Department of Energy.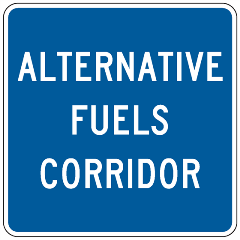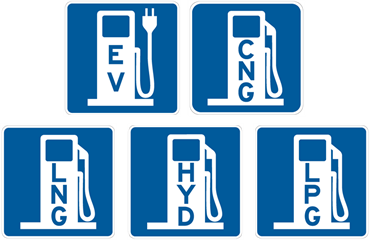 Corridor Designations:
Electric Vehicle (EV)
Hydrogen (HVD)
Propane (LPG)
Liquid Natural Gas (LNG)
Compressed Natural Gas (CNG)
| Fuel/Technology | Signage-Ready NHS Segment has... | Signage-Pending NHS Segment has... |
| --- | --- | --- |
| EV Charging | Public DC Fast Charging, no greater than 50 miles between one station and the next on the corridor | Public DC Fast Charging or Level 2 chargers separated by more than 50 miles |
| Hydrogen | Public hydrogen stations no greater than 100 miles between one station and the next on the corridor | Public hydrogen stations separated by more than 100 miles |
| Propane | Public, primary propane stations no greater than 150 miles between one station and the next on the corridor | Public, primary propane stations separated by more than 150 miles |
| CNG | Public, fast fill, 3,600 psi CNG stations no greater than 150 miles between one station and the next on the corridor | Public, fast fill, 3,600 psi CNG stations separated by more than 150 miles |
| LNG | Public LNG stations no greater than 200 miles between one station and the next on the corridor | Public LNG stations separated by more than 200 miles |
For more information:
For a list of alternative fuel stations: