Binational San Luis Transportation Study
Binational San Luis Transportation Study
The Binational San Luis Transportation Study is a joint effort by the Arizona Department of Transportation, Federal Highway Administration, city of San Luis in Arizona, Municipal de San Luis Rio Colorado and Sonora, Mexico. The primary purpose of this study is to prepare a long-range multimodal transportation plan that will address the most critical current and future transportation issues for the cities of San Luis, Arizona and San Luis Rio Colorado. The study is being funded by the Federal Highway Administration.
Study Process
One of the principal goals of this study is to update the Transportation Plan identified in the 2009 City of San Luis Small Area Transportation Study to address the safety and mobility issues specific to the continuously growing border region. During the course of this study, the project team will
determine if the current and planned infrastructure are still needed and are properly serving the community and regional travelers.
address pedestrian and bicyclist needs.
plan to enhance connectivity between vehicles, transit and pedestrians.
develop a plan to enhance the mobility and connectivity of the transportation system at an international, regional and local level.
evaluate and identify needed infrastructure improvements at San Luis I Port of Entry.
conduct an Origin and Destination survey to understand the travel pattern between the cities.
provide multiple opportunities for comprehensive public input into the development of the transportation plan.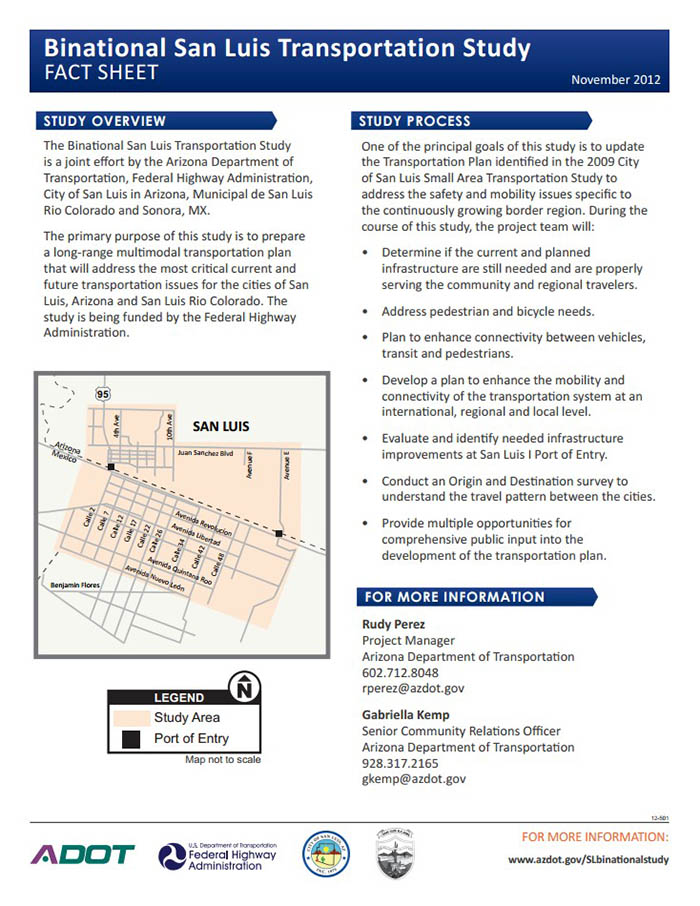 Fact Sheet
Project Documents
San Luis, Arizona
San Luis Rio Colorado, Sonora
Contact Information
For more detailed information about the study, please email ADOT Project Manager Rudy Perez(link sends e-mail) or call 602.712.8048.