Interstate 17: Indian School Road Traffic Interchange Study
Interstate 17: Indian School Road Traffic Interchange Study
NOTE: The design phase for this project is currently on hold.
The Arizona Department of Transportation, in association with the Maricopa Association of Governments, and in coordination with the Federal Highway Administration and the city of Phoenix, is conducting an environmental study and developing a Design Concept Report (DCR) to improve traffic flow and safety at Interstate 17 and Indian School Road in Phoenix. The study area encompasses Indian School Road between 19thand 31st avenues and I-17 from approximately one-half mile south and one-half mile north of Indian School Road (milepost 202.5 to 203.5).
Why Improvements Are Necessary
This interchange is identified as a candidate for capacity improvements in the MAG "Interstate 10/Interstate 17 Corridor Master Plan" (also known as the Spine Study) which was finalized by MAG in 2017. Approximately 50,000 vehicles use east- and westbound Indian School Road at I-17 per day. This volume is 40 percent higher than on Thomas Road at I-17 (one mile south) and 25 percent higher than on Camelback Road at I-17 (one mile north). Traffic congestion levels on Indian School Road at I-17 are projected to continue increasing, and expected to reach unacceptable levels by 2040.
Recommended Build Alternative
After evaluating options for interchanges in this location, the initial DCR identifies a new, three-level diamond interchange as the Recommended Build Alternative. If constructed, this interchange would include:
A flyover bridge along Indian School Road to allow east-west through traffic to bypass the intersections at the I-17 ramps and frontage roads;
New roadways approaching the flyover bridge with embankments and retaining walls;
A reconstructed and widened Indian School Road to accommodate the flyover bridge and new approaches; and
Two new pedestrian bridges – one north and one south of Indian School Road – to allow pedestrians to cross I-17 safely.
View three-dimensional photos on Flickr that illustrate what this interchange might look like if constructed.
The study team is also evaluating the No-Build (or "do nothing") Alternative.
Study map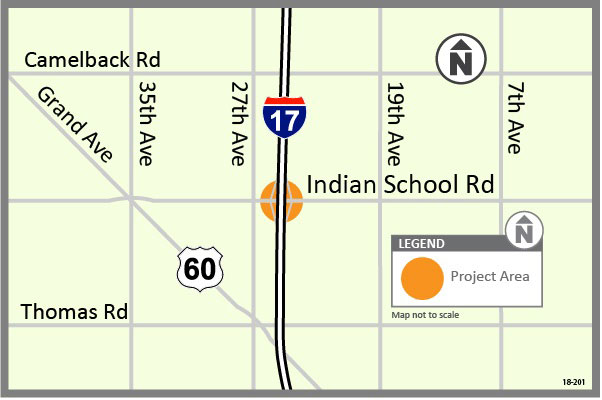 Public Meetings
ADOT hosted a public meeting about plans to improve the Interstate 17 and Indian School Road traffic interchange in Phoenix from 5 to 6:30 p.m. Wednesday, April 24, 2019, at the Encanto Park Clubhouse, 2605 N. 15th Ave., Phoenix, AZ 85007. The meeting was an open-house format with a formal presentation. Attendees were provided with an opportunity to learn about the environmental study and draft Design Concept Report; ask questions of study team members; and provide their input. The meeting invitation and meeting materials are available for review on this page.
Review the 
Public Meeting Summary Report
To submit a questions or comments:
Phone: Call the ADOT Bilingual Project Information Line at 855.712.8530
Email: Visit azdot.gov/contact and select Projects from the drop-down menu
Mail:
ADOT Communications
1655 W. Jackson Street MD 126F
Phoenix, AZ 85007
Meeting Documents