Interstate 17: Central Avenue Bridge Replacement Study
Interstate 17: Central Avenue Bridge Replacement Study
The Arizona Department of Transportation in cooperation with Valley Metro has initiated a study to replace the Interstate 17 bridge over Central Avenue, south of downtown Phoenix. The bridge was identified as needing replacement in the Maricopa Association of Government (MAG) Interstate 10/Interstate 17 Corridor Master Plan (also known as the Spine Study), which is currently being finalized by MAG. The latest information about the Spine Study is available on MAG's website. Funding for design, right-of-way acquisition, utility relocations and construction of a bridge replacement project is included in fiscal years 2018 and 2019 of ADOT's current Five-Year Transportation Facilities Construction Program.
Project Map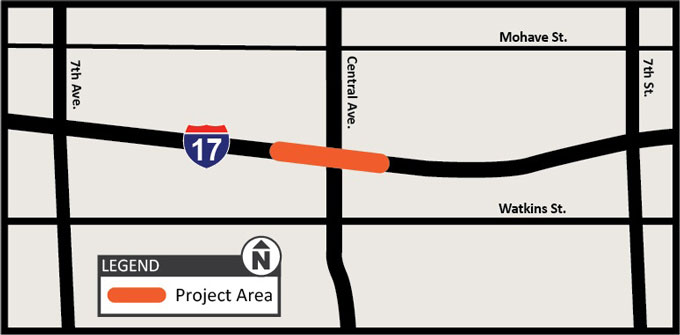 Study Purpose
There are three major reasons this project is needed:
The aging structure is more than 50 years old, has substandard vertical clearance, and is near the end of its useful life.
The width of I-17 at Central Avenue as defined by the Spine Study is nearly double the existing width of I-17.
Central Avenue has been identified by Valley Metro as the South Central light rail extension corridor; however, the existing bridge does not have sufficient vertical clearance to allow passage of the light rail system.
No-Build and Build Alternatives
ADOT is studying the no-build and three build alternatives as described below:
No-build option: No action is taken and the bridge structure remains in its current state.
Single-Span Bridge: A bridge supported at each end (similar to the existing bridge).
Two-Span Bridge: A bridge supported at each end with one additional support (pier) in Central Avenue.
Three-Span Bridge: A bridge supported at each end with two additional supports (piers) either in or adjacent to Central Avenue.
This bridge replacement project is being accelerated ahead of additional I-17 improvements recommended in the Spine Study to accommodate Valley Metro's South Central Extension construction timeline. The primary objectives of this early-action project are to select an alternative that provides a joint solution for ADOT and Valley Metro, while minimizing impacts to adjacent property owners and the traveling public.
Anticipated Project Timeline
Study Phase: Fall 2017 - Summer 2018
Design Phase: Summer 2018 - Summer 2019
Construction: Late 2020
Public Involvement
ADOT welcomes questions or comments about this project.
Telephone: 855.712.8530
Email: [email protected]
Mail:
ADOT Communications
1655 W. Jackson Street MD 126F
Phoenix, AZ 85007