State Route 51 Ramp Meter Study
State Route 51 Ramp Meter Study
With a goal of improving the rush-hour traffic flow, the Arizona Department of Transportation is testing changes in the timing of ramp-meter signals along State Route 51 (Piestewa Freeway).
The first phase, starting the week of Oct. 3, involves on-ramps along northbound State Route 51.
The red lights at the northbound State Route 51 ramp meters may hold vehicles for several more seconds, but detectors along the entrance ramps also will assess if ramp traffic is backing up. The system also is designed to adjust the red and green light timing to limit the amount of traffic waiting to enter the northbound freeway.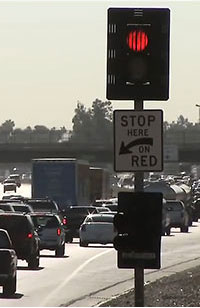 As part of the testing, some northbound State Route 51 ramp meters may turn off at an earlier time during the afternoon rush hour based on how well freeway traffic is flowing.
ADOT also will study another system of ramp-meter programming along southbound SR 51 in the near future, although the dates for that research haven't been set. That additional programming system is designed to allow individual ramp meters to respond to traffic conditions even several miles away and adjust signal timing to help improve traffic flow along a longer stretch of freeway.
Please share your thoughts on ramp meters and this study by taking a brief survey