Meetings - I-10: SR85 to Verrado Way Improvements
Public Information Meeting
The Arizona Department of Transportation is developing improvements for I-10 from State Route 85 to Verrado Way in the city of Buckeye. This improvement project includes adding an additional travel lane on I-10 in both directions. The new travel lanes would be constructed in the existing median. The project also includes reconstruction of the traffic interchanges at Miller and Watson roads to help alleviate traffic congestion. During the study phase of the project, Diverging Diamond and Compact Diamond options are being considered at these interchanges. The public was invited to attend a public meeting to learn more about the project and ask questions of study team members.
Public Information Meeting
Thursday, June 21, 2018
Meeting Documents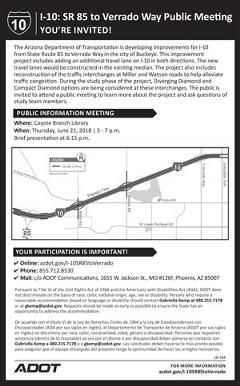 Need more information?
For more information regarding this project, please contact Karin Krause at 480.390.1832.