Loop 101 (Pima Freeway), Princess Drive to Shea Boulevard Improvements
Loop 101 (Pima Freeway), Princess Drive to Shea Boulevard Improvements
Contents
Overview
The Arizona Department of Transportation, in partnership with the city of Scottsdale, the Federal Highway Administration and the Maricopa Association of Governments, has initiated a project to widen Loop 101 (Pima Freeway) between Princess Drive and Shea Boulevard and modify existing interchanges to improve traffic flow on Loop 101 and the cross streets.
Background
A Design Concept Report (DCR) and environmental study was completed in 2010, which recommended the addition of a general-purpose lane in each direction and interchange improvements. The DCR was updated in 2021 to re-evaluate the interchanges to better accommodate increased traffic volumes in this area.
Planned Project Elements
Widening Loop 101 to add one general-purpose lane in both the northbound and southbound directions between Princess Drive and Shea Boulevard. This project will tie into the Loop 101 widening project from I-17 to Pima Road/Princess Drive, completed in 2022, and the earlier Loop 101 widening project south of Shea Boulevard.
Reconstructing the interchange at Frank Lloyd Wright Boulevard to a new configuration.
Making minor modifications to the interchanges and cross-streets at Princess Drive, Raintree Drive and Shea Boulevard to improve turning movements.
Reconstructing sidewalks to comply with current Americans with Disabilities Act (ADA) standards.'
Public Input
The public was surveyed in 2020 to gather input on the proposed interchange concepts. A summary of the survey results will be available in the near future. 
Schedule
The updated Design Concept Report was released in February 2021.
Project is currently in the design phase.
A Virtual Public Meeting was held on Wednesday, Nov. 2, 2022.
Project construction is anticipated to begin in 2024.
It's expected to take approximately two years to complete.
Documents 
Preliminary Design Concepts
Preliminary Design Concepts
Below are the preliminary design concepts of the four interchanges included in this project with the recommended modifications. These interchange modifications were recommended to improve existing and future traffic flow.
Princess Drive Interchange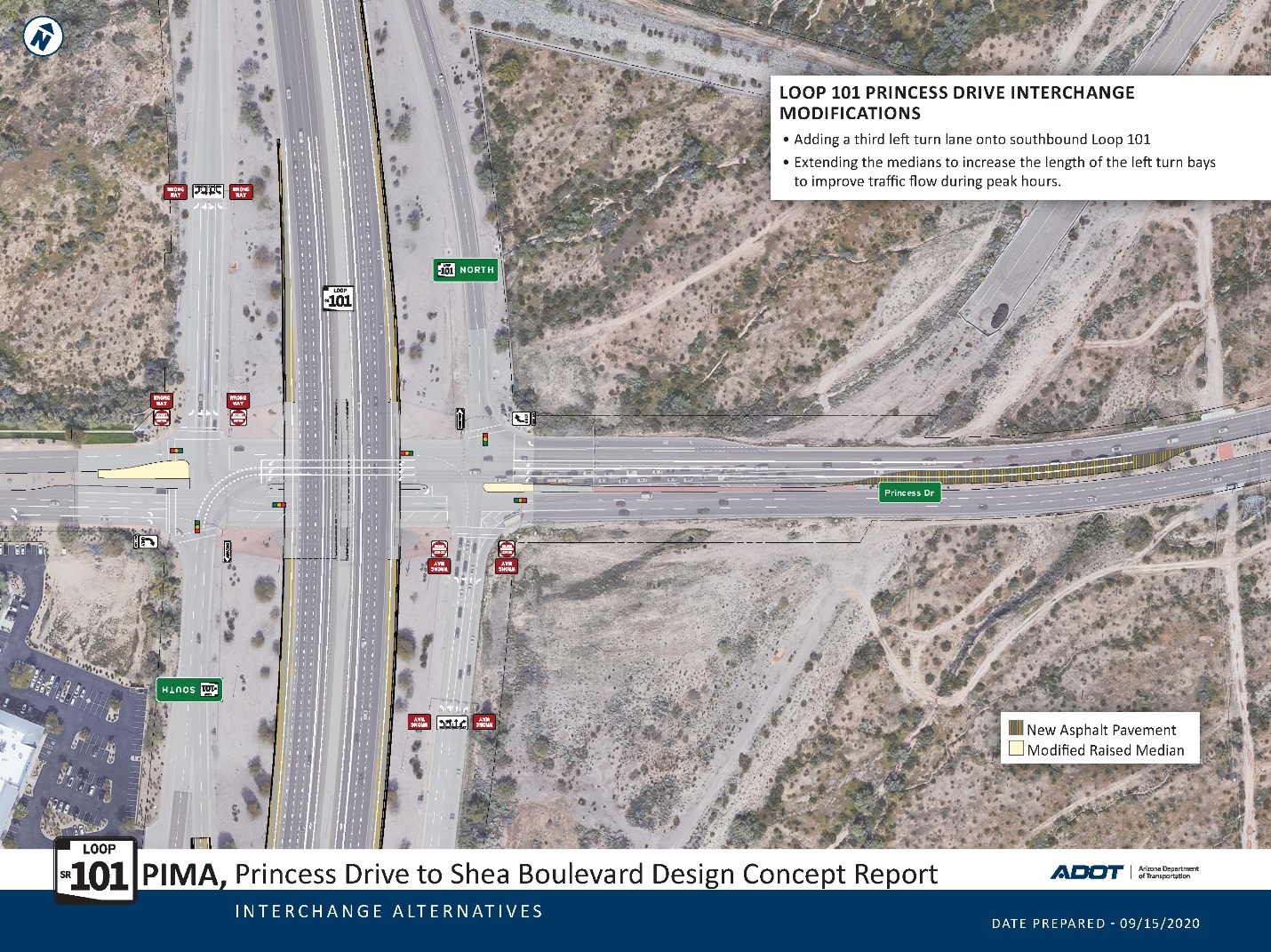 Planned improvements include:
Adding a third left turn lane onto southbound Loop 101
Extending the medians to increase the length of the left turn bays to improve traffic flow during peak hours.
Frank Lloyd Wright Boulevard Interchange
Planned improvements include:
Modifying the current design from a Single-Point Urban Interchange (SPUI) to a Tight Diamond Interchange (TDI) to improve traffic flow and capacity on Frank Lloyd Wright Boulevard, particularly during peak hours. Traffic flows through a TDI with one signal approaching Loop 101 and another under the bridge to allow traffic on Frank Lloyd Wright Boulevard to turn left onto the freeway or continue straight, which increases traffic capacity.
Eliminating the curved ramps for left turns onto the freeway, and replacing with tight diamond on-ramps.
Restriping to accommodate intersection improvements and an additional northbound through lane.
Constructing a center lane median.
Constructing/reconstructing sidewalks on both sides of the road near the interchange to comply with current ADA standards.
Accommodating future bicycle lanes.
Raintree Drive Interchange
Proposed improvements include:
Adding a second right turn lane on the westbound Loop 101 off-ramp.
Adding a right turn lanes on the eastbound Loop 101 off-ramp and to the northbound on-ramp.
Reconstructing the sidewalks near the additional right turn lanes to comply with current ADA standards.
Shea Boulevard Interchange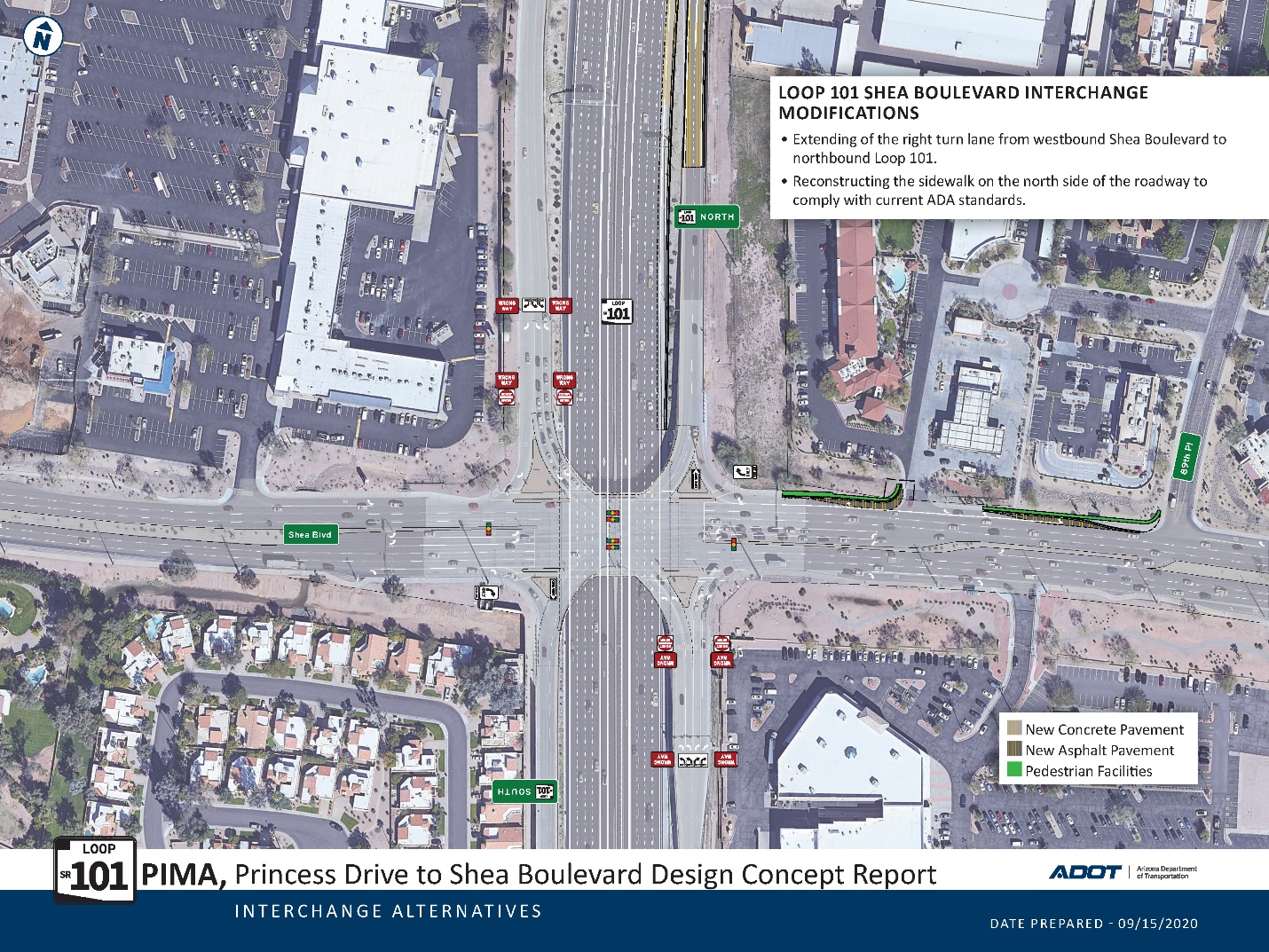 Proposed improvements include:
Extending of the right turn lane from westbound Shea Boulevard to northbound Loop 101.
Reconstructing the sidewalk on the north side of the roadway to comply with ADA current standards.
Stay Up to Date

Submit questions and comments or request information in any of the following ways:
By Phone: ADOT Project Information Line: 855.712.8530
Teléfono: Línea de Información del Proyecto ADOT: 855.712.8530
Online: Visit azdot.gov/contact and select Projects from the drop-down menu
By Mail: ADOT Communications, 1655 W. Jackson St., MD 126F, Phoenix, AZ 85007