I-40: Rancho Santa Fe Traffic Interchange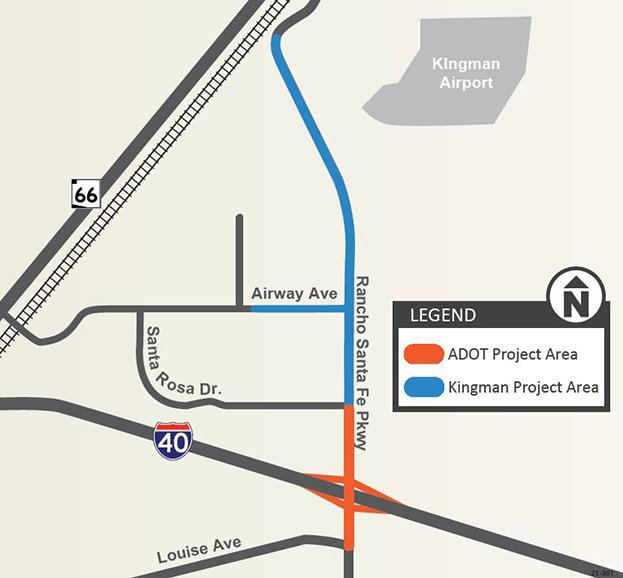 The Arizona Department of Transportation, in coordination with the city of Kingman and the Federal Highway Administration, is planning for construction of a new traffic interchange, the Rancho Santa Fe Traffic Interchange on Interstate 40 (Exit 57), in east Kingman in 2022.
The purpose of this project is to provide access and accommodate future traffic volumes generated in the rapidly-growing east Kingman area, and to relieve congestion at the existing East Kingman interchange (Andy Devine Avenue/State Route 66, Exit 54).
Overview
Construct a new traffic interchange on I-40 at milepost 57.
Construct a four-lane street along Rancho Santa Fe Parkway, north of I-40, between I-40 and Santa Rosa Drive.
Construct a four-lane street along Rancho Santa Fe Parkway, south of I-40, between I-40 and Louise Avenue.This section will include bicycle lanes, sidewalks, curb and gutter and a center raised median.
City of Kingman
Construct a two-lane street along Rancho Santa Fe Parkway, north of I-40, between Grand Canyon Road and Industrial Boulevard, near the Kingman Municipal Airport.
What to expect during construction
Work will take place during daytime hours.
I-40 traffic will be detoured on the future Rancho Santa Fe interchange ramp alignment while crews construct the new bridges over Rancho Santa Fe.
Two travel lanes on I-40 will remain open in each direction.
Motorists should be prepared for delays of up to 15 minutes.
The speed limit will be reduced in the work zones.
Schedule
Planning is underway for construction to begin in 2022. More information will be posted prior to the work.
Schedule subject to change based on weather or other unforeseen factors.
Restrictions and Closures
For information about project-related restrictions and closures please visit az511.gov or call 511, except while driving.
ADOT will provide more information about project schedules and potential traffic impacts as information becomes available. Stay informed of traffic restrictions before they occur by subscribing to traffic alerts for the project.
Stay Informed
ADOT welcomes your questions and comments. Please contact us in any of these ways:
Online: Submit a question or comment through the ADOT website. Visit azdot.gov/Contact and then select Projects from the dropdown menu.
By phone: Call the ADOT Bilingual Project Information Line at 855.712.8530.
By mail: Write to ADOT Community Relations, 1655 W. Jackson St., MD 126F, Phoenix, AZ 85007