Interstate 17: Sunset Point Rest Area Rehabilitation
Interstate 17: Sunset Point Rest Area Rehabilitation
Overview
The Arizona Department of Transportation is rehabilitating the Sunset Point Rest Area facility located along Interstate 17 at milepost 252, approximately 10 miles south of Cordes Junction. The $7.5 million project will rehabilitate or upgrade the facility's water and septic systems, ramadas, restrooms and vending buildings. In addition, truck parking will be expanded. Some of the improvements include:
Renovating the existing closed south and family restrooms and vending buildings that include replacing or upgrading lighting fixtures, doors, sinks, hardware, hand dryers and other components.
Renovating existing ramadas.
Replacing or upgrading exterior features, including signage, sidewalks, lighting and landscape.
Renovating the sundial memorial.
The improvements will also make the rest area more accessible for persons with disabilities.
Project Area Map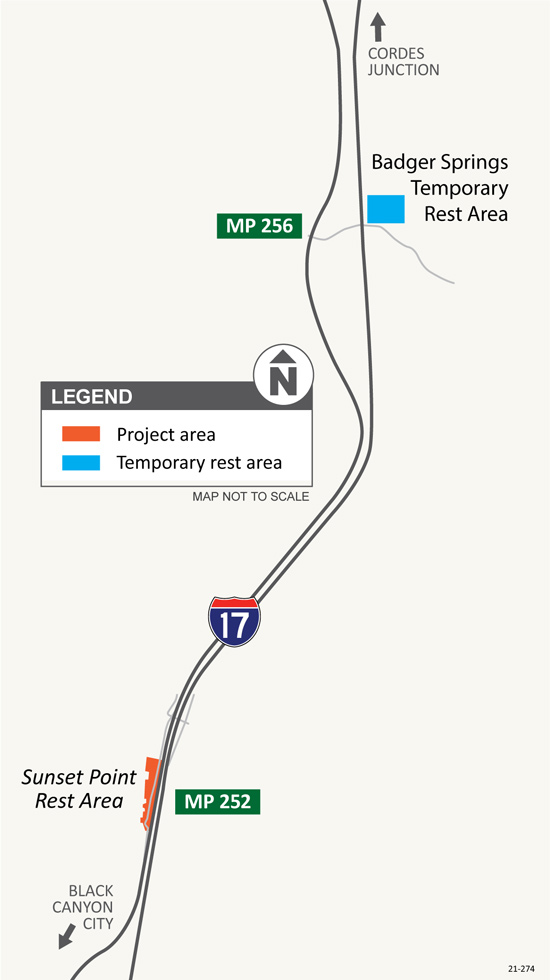 What to Expect
The existing rest area parking lot will remain open to commercial truck traffic only. 
While the project is underway, a temporary rest area will be open four miles north of Sunset Point at the Badger Springs Road exit (milepost 256). This rest area is open to passenger vehicles and non-commercial trucks only. It will not have access for commercial semi trucks, oversize loads, large RV's and vehicles towing trailers.
Construction began in summer 2022 and the rest area is expected to reopen summer 2023.
Traffic Alerts

Subscribe to receive traffic alerts and project updates by email.
Stay Informed:

Email: Subscribe to receive project updates and traffic alerts.
Phone: ADOT Project Information Line: 855.712.8530.
Teléfono: Línea de Información del Proyecto ADOT: 855.712.8530.
Online: Submit a question or comment through the ADOT website. Visit azdot.gov/Contact and then select Projects from the dropdown menu.
Twitter: Follow ADOT on Twitter  (@ArizonaDOT) for real-time highway conditions statewide.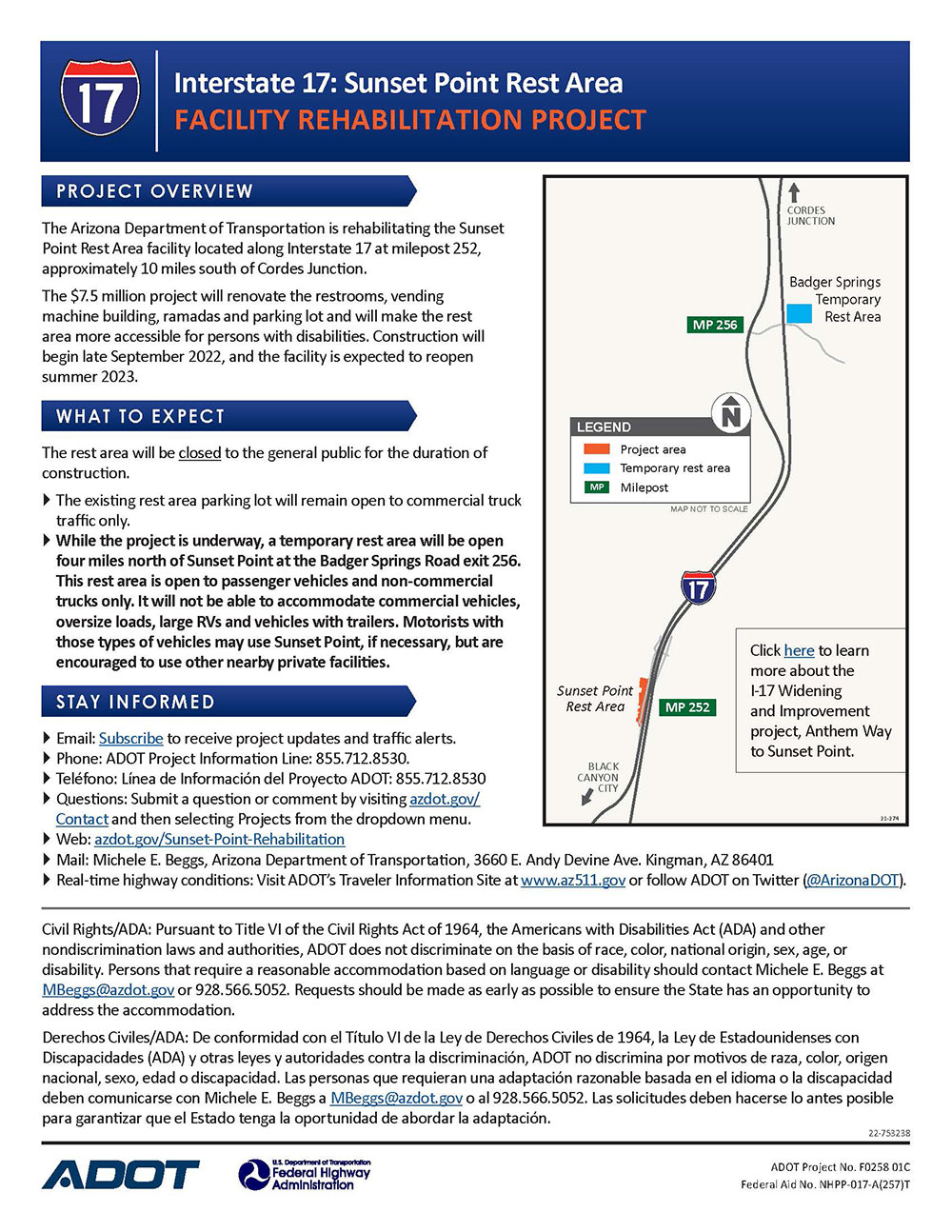 Improvement Project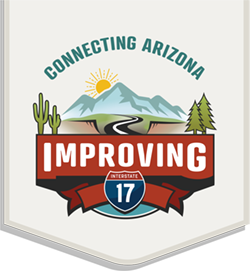 Learn more about the I-17 Widening and improvement project, Anthem Way to Sunset Point at: