SR 169 Bridge Deck Replacement at I-17
SR 169 Bridge Deck Replacement at I-17
Contents
Overview
Project Cost: $6,323,150
The Arizona Department of Transportation has initiated a construction project to replace the bridge deck on State Route 169 at the junction with Interstate 17 near Camp Verde (I-17 mileposts 277-278).
Project Elements
The project, located at the I-17 and SR 169 traffic interchange, will replace the existing bridge deck that moves SR 169 traffic over I-17. The bridge deck is the top surface of the bridge that motorists drive on. This project includes the following elements:
Removing and replacing the existing concrete bridge deck.
Removing and replacing approach and departure slabs.
Removing and replacing guardrails as needed.
Repairing erosion and associated undermining at bridge abutments.
Project Area Map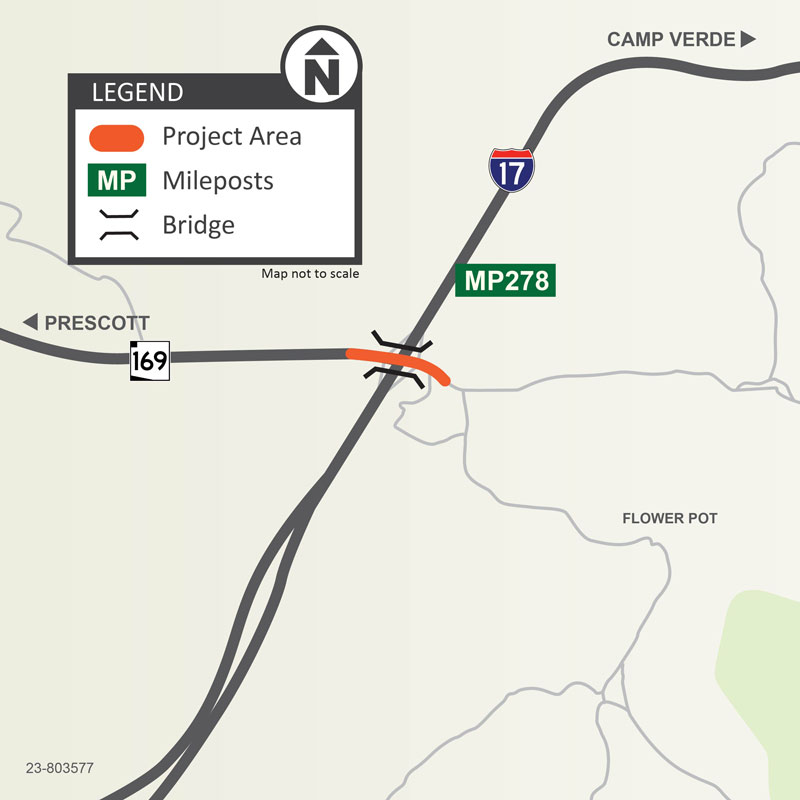 Project Schedule
Construction is anticipated to start in spring 2023 and be completed in fall 2023, with the exception of the lane closure on the SR 169 bridge throughout construction. All other traffic restrictions will be limited to the overnight hours of 7 p.m. to 6 a.m. Sunday evenings through Friday mornings to minimize traffic impacts.
Schedules are subject to change on weather and other unforeseen factors.
What to Expect During Construction
The SR 169 bridge over I-17 will be reduced to one lane only with alternating east and westbound travel.
Traffic movements on the SR 169 bridge will be controlled by a temporary traffic signal.
SR 169 drivers need to be prepared to slow down and stop in the work zone and use caution around construction personnel and equipment while the restrictions are in place.
North- and southbound I-17 will be restricted intermittently underneath the SR 169 Bridge from 8 p.m. to 6 a.m. Sunday evenings through Friday mornings. Drivers will use the off- and on-ramps at the I-17/SR 169 traffic interchange to exit and re-enter the interstate while the restrictions are in place. 
ADOT will provide more information about project schedules and potential traffic impacts as information becomes available. Stay informed of traffic restrictions before they occur by subscribing to receive timely traffic alerts by email.
For information about project-related restrictions and closures, please visit az511.gov or call 511, except while driving.
Stay Informed
By email: Subscribe  to receive traffic alerts and project updates directly to your email.
Phone: Nicole Underwood, ADOT Community Relations Project Manager: 480.601.1575
Teléfono: Línea de Información del Proyecto ADOT: 855.712.8530
Online: Submit a question or comment through the ADOT website by visiting azdot.gov/Contact and then select "Projects" from the dropdown menu.