TRAFFIC ALERT: Expect overnight lane restrictions on State Route 68 beginning Sunday, Sept. 17 through December for paving project
Expect overnight lane restrictions on State Route 68 beginning Sunday, Sept. 17 through December for paving project
Motorists should plan for delays between Bullhead City & Golden Valley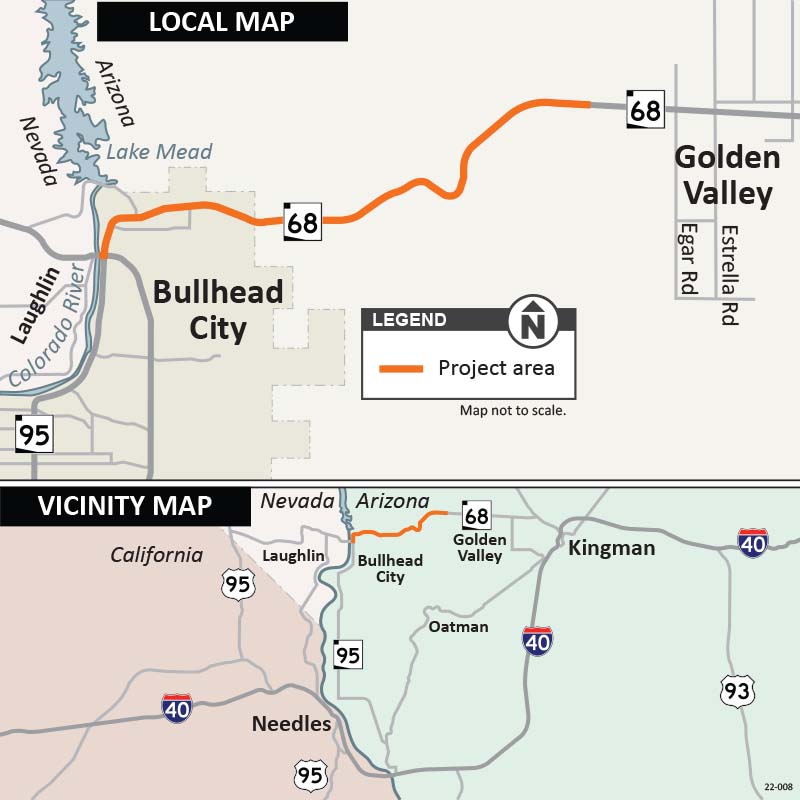 The Arizona Department of Transportation advises area drivers to plan for lane restrictions and travel delays on State Route 68 between Bullhead City and Golden Valley beginning Sunday, Sept. 17, through December as work on a 15-mile paving project gets underway.
Work will begin east of the SR 68 and Laughlin Bridge intersection, and continue through the Union Pass section, west of Golden Valley (mileposts 0 to 15).
Motorists should allow extra travel time while the following overnight restrictions are in place from 7 p.m. to 6 a.m. Sunday evenings through Friday mornings: 
Intermittent lane restrictions on east- and westbound SR 68. 
One lane will remain open in each direction while paving work is underway.
The speed limit will be reduced in the work zones.
The restrictions are needed to allow crews to safely remove the existing top layer of pavement and replace it with a new asphalt overlay along this stretch of SR 68.
For more information about this project, visit the project web page. 
Show less