SR 95: Needles Bridge Rehabilitation Project
The Arizona Department of Transportation, in coordination with the city of Needles, Calif., is preparing for a construction project on the State Route 95 Needles Bridge, spanning over the Colorado River.
The Needles Bridge, originally built in 1978, spans over Arizona and California. In 2002, a project to repair the bridge joints was completed. The purpose of this rehabilitation project is to upgrade the existing bridge structure.
Project Overview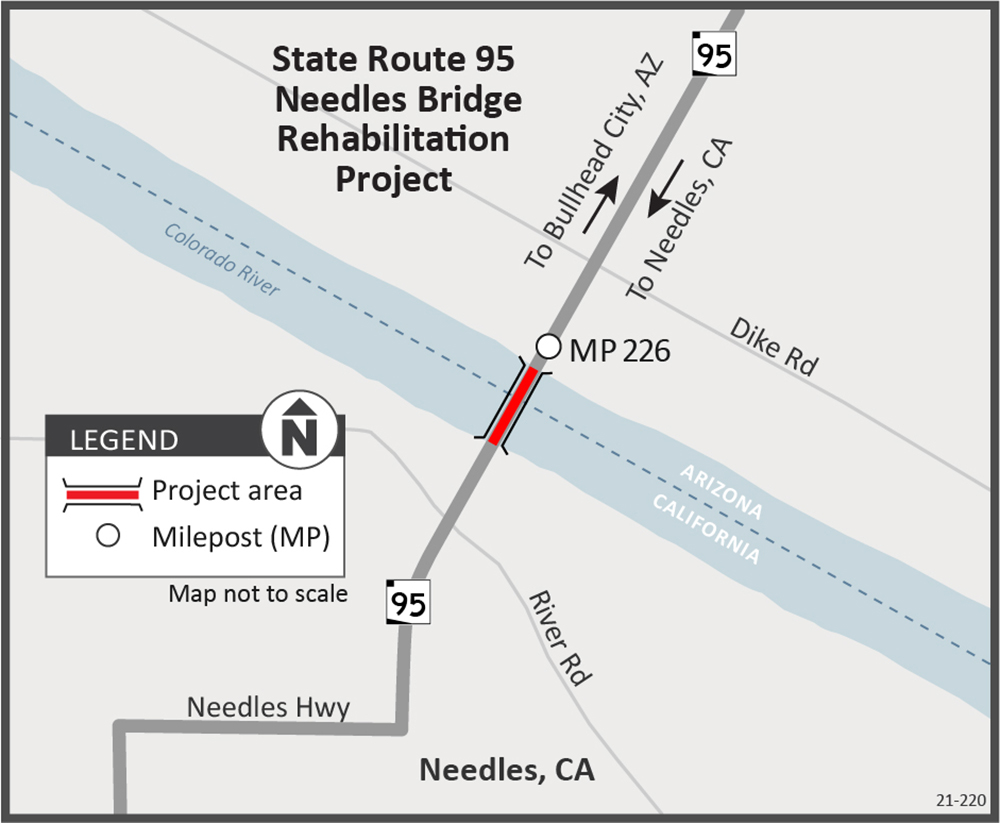 The scope of work includes:
Remove and replace the top layer of the concrete deck.
Remove and replace the bearings at both abutments.
Install approach slabs.
Remove and replace the expansion joints seals.
Upgrade the guardrails on both of the bridge approaches.
Reconstruct the concrete embankment curb.
Repair damaged chain link fence.
What to expect during construction
Motorists should be prepared for delays of up to 15 minutes.
One travel lane will remain open at all times.
Traffic will be shifted during construction to allow crews to work on one side of the bridge at a time.
The speed limit will be reduced in the work zone.
Construction-related noise.
Project Schedule
More information will be posted prior to the work.
Schedule subject to change based on weather or other unforeseen factors.
Restrictions and Closures
For information about project-related restrictions and closures please visit az511.gov or call 511, except while driving.
ADOT will provide more information about project schedules and potential traffic impacts as information becomes available. Stay informed of traffic restrictions before they occur by subscribing.
Stay Informed
ADOT welcomes your questions and comments. Please contact us in any of these ways:
Online: Submit a question or comment through the ADOT website. Visit azdot.gov/Contact and then select "Projects" from the dropdown menu.
By phone: Call the ADOT Bilingual Project Information Line at 855.712.8530.
By mail: Write to ADOT Public Involvement, 3660 E. Andy Devine Ave., Kingman, AZ 86401