Expect brief delays: State Route 95 SARA Park - Interstate 40 nighttime paving is underway
Expect brief delays: State Route 95 SARA Park - Interstate 40 nighttime paving is underway
Drivers should use caution and allow extra travel time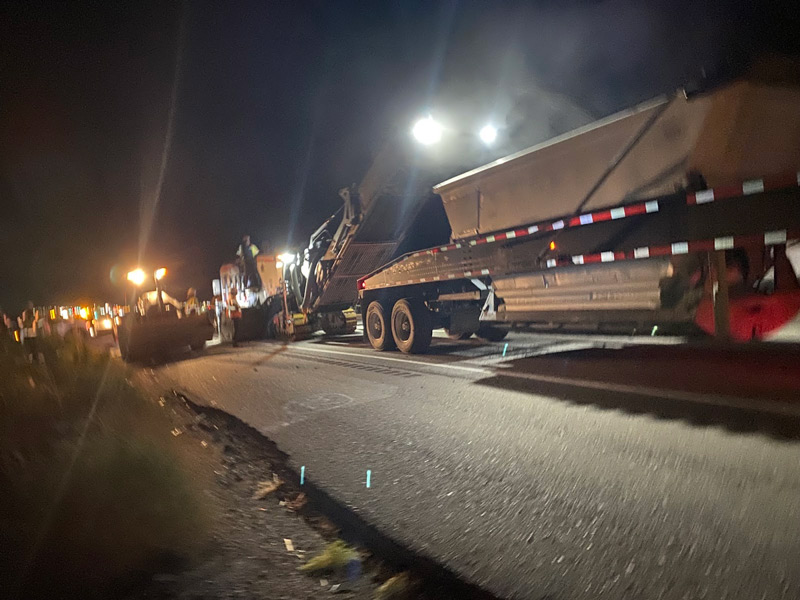 Nighttime paving on State Route 95 started this week near Havasu Heights.
The Arizona Department of Transportation is reminding drivers in the Lake Havasu City area to prepare for overnight lane restrictions while new pavement is being placed on State Route 95 from SARA Park to Interstate 40.
The nighttime paving started this week north of Lake Havasu City near Havasu Heights to I-40 (mileposts 197 to 202). Work will continue north toward the I-40 junction in the northbound lanes, where paving is expected to occur during the week of Oct. 22. After the northbound lanes are completed, paving on the southbound lanes will take place in the same segment of SR 95. 
Motorists should allow extra travel time while the following nighttime restrictions are in place from 6 p.m. to 6 a.m. Sunday evenings through Friday mornings:
Northbound SR 95 will be narrowed to one lane between Havasu Heights and I-40 (mileposts 197 to 202).
Flaggers and a pilot car will guide drivers through the work zone. 
A 16-foot vehicle width restriction will be in place.
The speed limit will be reduced in the work zone.
Drivers should be prepared to come to a complete stop when approaching and driving through the work zone. 
This segment is part of a 27-mile pavement project on SR 95 between SARA Park and Interstate 40 (mileposts 176-202). Only a portion of the project area that is being paved will have the restrictions in place. 
For more information on the SR 95 SARAPark - Interstate 40 paving project, visit the project webpage.
Show less