State Route 95 Pavement Preservation: Sara Park - I-40
State Route 95 Pavement Preservation: Sara Park - I-40
Contents
Overview
Project Cost: $18.5 million 
State Route 95 in Mohave County
The Arizona Department of Transportation will begin construction this spring to replace the riding surface along a 26-mile section of State Route 95. The pavement project is between Sara Park in Mohave County and Lake Havasu City (mileposts 176 to 202).
Work includes:
Removing the top layer of pavement and replacing it with new asphalt.
Replacing curb and gutter, sidewalk ramps, pavement markings and other related work.
Project Area Map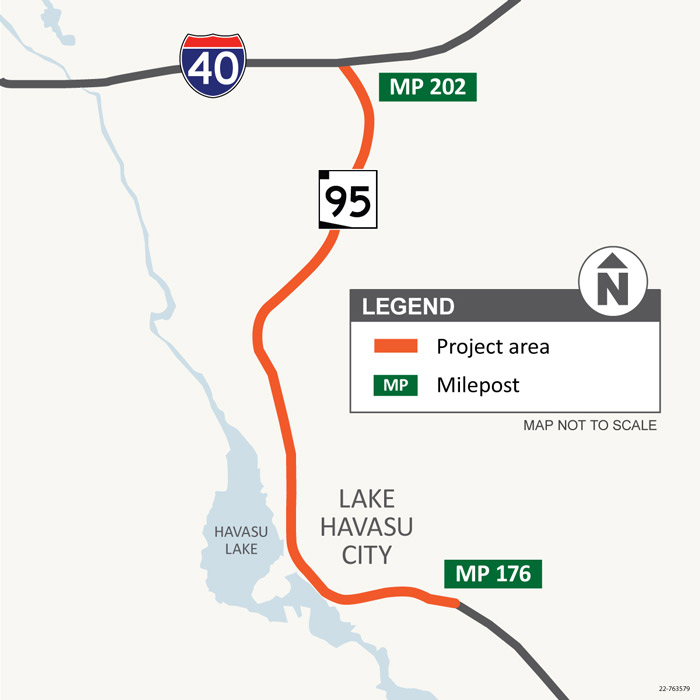 What to expect during construction
Work is expected to begin in the summer and be completed summer 2024.
Lane restrictions will be limited to overnight hours only and business access will be maintained throughout construction.
The restrictions include:
Overnight intermittent lane restrictions on north- and southbound SR 95 from 8 p.m. to 5 a.m. Sunday evenings through Friday mornings.
Drivers should be prepared to come to a complete stop in the work zone and for delays up to 15 minutes. 
One lane will remain open in each direction. 
The speed limit will be reduced in the work zones.
ADOT reminds drivers to proceed through the work zone with caution, slow down and watch for construction personnel and equipment.
Project Schedule
More information on the project schedule will be posted prior to the work starting.
Schedule subject to change based on weather or other unforeseen factors.
Stay Informed
Stay informed of traffic restrictions before they occur by subscribing to GovDelivery and receive notifications sent directly to your email. It's fast and easy! All we need is your email address.
ADOT will provide more information about project schedules and potential traffic impacts as information becomes available.
For real-time information about project-related restrictions and closures, please visit az511.gov or call 511, except while driving.
Questions/Comments
ADOT welcomes your questions and comments. Please contact us in any of the following ways:
Online: Submit a question or comment through the ADOT website by visiting azdot.gov/Contact and then select Projects from the dropdown menu.
By phone: Call Michele Beggs, Community Relations Project Manager, at 928.566.5052.
Teléfono: Línea de Información del Proyecto ADOT: 855.712.8530.
By mail:  Write to ADOT Community Relations, 3660 E. Andy Devine Ave. Kingman, AZ 86401