US 60: Centennial Wash to Aguila Pavement Preservation
The Arizona Department of Transportation is initiating a project to repair and preserve the pavement along US 60 from Hillside Road to Black Eagle Road (mileposts 63 – 86) in the communities of Wenden and Aguila in Maricopa and La Paz counties.
The $1.6 million project includes the following:
● Spot pavement repairs.
● Re-apply a chip seal to repair pavement, as needed.
● Apply a micro seal on top of the pavement from mileposts 82 - 85.
Construction is expected to begin this summer and continue through the fall of 2022.
Project Map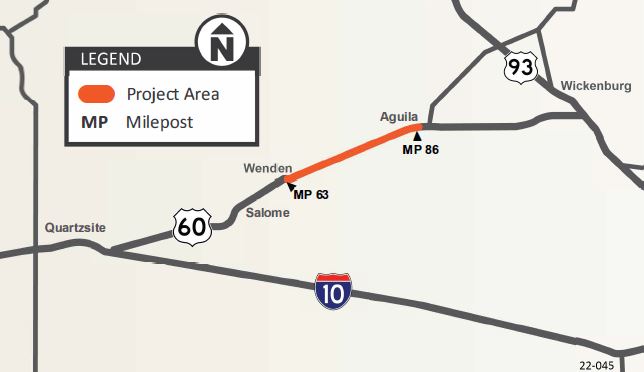 What to Expect
While pavement work is underway, motorists will encounter alternating lane closures with one lane of traffic maintained and flagging operations throughout construction. ADOT advises drivers to plan for possible delays while the work is underway.
Stay Informed
Email: Subscribe to receive project updates and traffic alerts.
Phone: ADOT Project Information Line: 855.712.8530.
Teléfono: Línea de Información del Proyecto ADOT: 855.712.8530
Online: Submit a question or comment through the ADOT website. Visit azdot.gov/Contact and then select Projects from the dropdown menu.
Twitter: Follow ADOT on Twitter (@ArizonaDOT) for real-time highway conditions statewide.