US 93: Moore Ranch Road to Milepost 190 Pavement Preservation Project
Currently not paving due to night weather and temperatures.
The project will resume in spring/summer 2023 and is scheduled to be completed in late summer/early fall 2023.
The Arizona Department of Transportation is beginning work to remove and replace the existing top layer of pavement along US 93 between Moore Ranch Road and milepost 190 (mileposts 184-190) north of Wickenburg. The purpose of the project is to improve the condition of the pavement and extend its service life.
The $1.7 million project includes the following:
Removing and replacing the friction course on northbound lanes.
Applying a fog coat pavement sealant to the southbound lanes.
Spot pavement repairs at mileposts 184 and 190.
Reinstalling roadway striping and other pavement markings.
What to Expect
While the project work is underway, motorists will encounter alternating lane closures with one lane of traffic maintained throughout construction. Drivers should plan for possible delays while the work is underway.
Project Area Map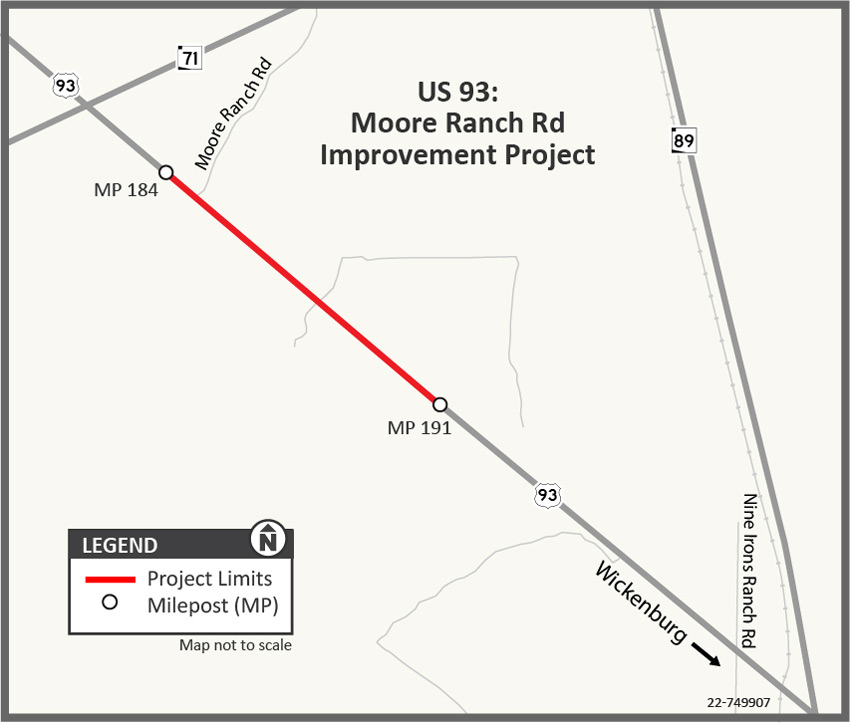 Stay Informed:
Email: Subscribe to receive project updates and traffic alerts.
Phone: ADOT Project Information Line: 855.712.8530.
Teléfono: Línea de Información del Proyecto ADOT: 855.712.8530
Online: Submit a question or comment through the ADOT website. Visit azdot.gov/Contact and then select Projects from the dropdown menu.
Twitter: Follow ADOT on Twitter (@ArizonaDOT) for real-time highway conditions statewide.