I-10 Reconstruction between Ruthrauff and Ina roads
I-10 Reconstruction between Ruthrauff and Ina roads
Contents
Overview
The Arizona Department of Transportation and the Federal Highway Administration (FHWA) are working to improve safety and traffic flow on I-10 between the Ina Road and Ruthrauff Road interchanges in Tucson. A related Pima County project to extend Sunset Road between I-10 and River Road will be built at the same time.
Key elements of the project include:
Reconstructing and widening nearly four miles of I-10 from three lanes in each direction to four lanes
Adding auxiliary lanes to create two-lane entrance and exit ramps at all interchanges in this section of interstate
Replacing the existing inside shoulder pavement on I-10 to add an additional lane in each direction near the Ina Road interchange
Reconstructing the traffic interchange at Orange Grove Road, including providing additional vertical clearance under I-10
Reconstructing the Cañada del Oro Wash and Rillito River I-10 bridges to provide sufficient clearance
Constructing new bridges to carry Sunset Road traffic over the Union Pacific Railroad(UPRR) and the Rillito River
Constructing an access path to the Chuck Huckelberry Loop from Sunset Road
Additional work includes constructing bridges and retaining walls as needed throughout the project area and providing drainage, lighting, landscaping and other improvements. At the completion of the project, I-10 will have four travel lanes from 22nd Street to Ina Road.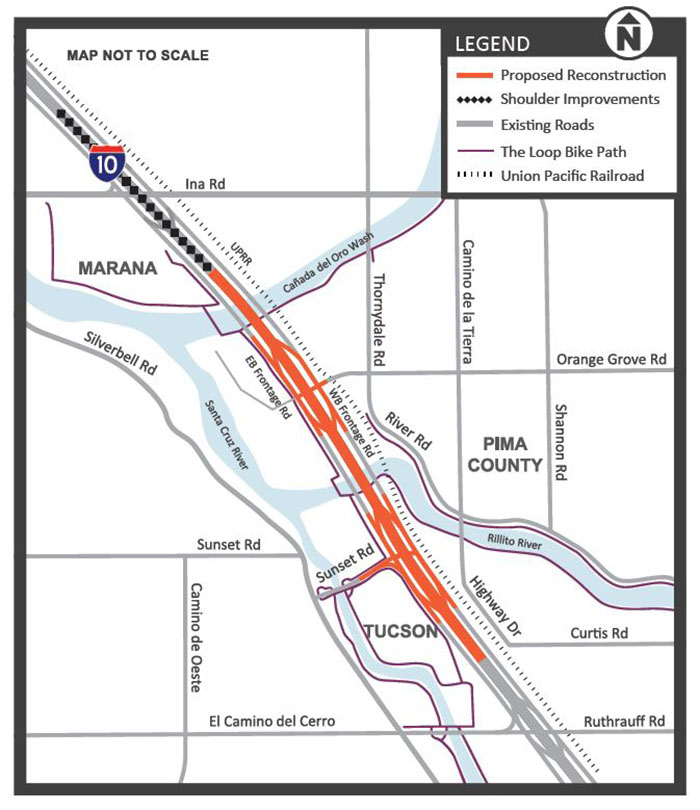 Timeline
Construction is scheduled to begin February 2023 with completion expected at the end of 2025.
Traffic restrictions
I-10 will remain open to three lanes of traffic throughout the project except for scheduled overnight lane restrictions. During much of the project, I-10 will be shifted to the eastbound and westbound frontage roads. 
Beginning in spring 2023, the Sunset Road traffic interchange will be closed for the duration of the project and the Orange Grove traffic interchange will be restricted, allowing westbound exits only. All businesses within the work zone will remain accessible. 
Alternate routes will be required during significant portions of the project. Schedules are subject to change based on weather and other unforeseen factors.
Stay Informed

ADOT welcomes your questions or comments. Please feel free to contact us in any of the following ways:

Online: Submit a question or comment through the ADOT website. Visit azdot.gov/Contact and then select "Projects" from the dropdown menu.
By phone: Call the ADOT Bilingual Project Information Line at 855.712.8530.
By mail: Write to ADOT Communications and Public Involvement, 1221 S 2nd Ave. Tucson, AZ 85713.
For information about current project-related restrictions and closures, please visit az511.gov or call 511, except while driving.

ADOT will provide more information about project schedules and potential traffic impacts as information becomes available. Stay informed about traffic restrictions before they occur by signing up to receive timely traffic alerts by email.