US 60: Queen Creek and Waterfall Canyon bridge projects
US 60: Queen Creek and Waterfall Canyon bridge projects
Contents
Overview
The Arizona Department of Transportation is designing two bridge projects on US 60 just east of Superior, the Queen Creek Bridge and the Waterfall Canyon Bridge.
A new Queen Creek Bridge will be constructed just to the east of the existing bridge. The existing steel bridge will remain in place and be fenced off following construction of the new bridge.
The Waterfall Canyon Bridge, located east of the Queen Creek Tunnel, will be reconstructed in its existing location.
Guardrail replacement and other general maintenance work will also be completed within and near the Queen Creek Tunnel.
Both projects are set to be advertised together and completed by one contractor.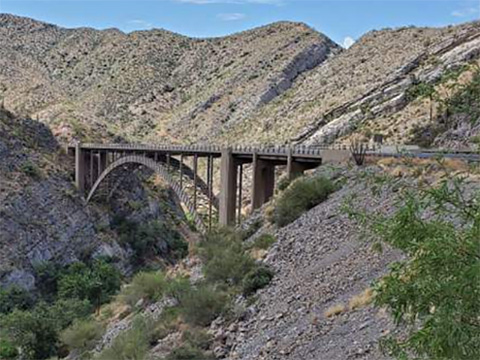 Queen Creek Bridge
Timeline
The two bridges were advertised in Fall 2023. Construction is currently set to begin in early 2024.
The overall project is expected to take three years
Project Map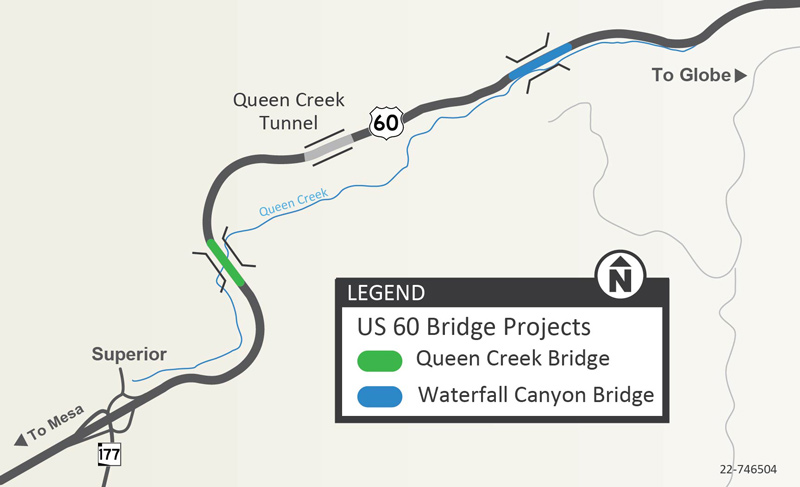 Traffic Restrictions
Motorists should anticipate the following restrictions:
Full closures of US 60 for rock blasting weekdays during the late morning and early afternoon.
Potential extended (several day) full closure of US 60 to transition traffic between the old and new Queen Creek bridges.
Frequent intermittent lane restrictions (reduced lane width, lane closures) and delays. 
Restrictions between the two nearby bridges will be coordinated and completed concurrently to the extent possible.
All restrictions to be listed through AZ511, dynamic message signs and email alerts. To receive email notices about traffic restrictions during construction, subscribe here.
Recreational Access Restrictions
The two bridges are located in an area frequented by hikers, rock climbers and other recreational users.
For the safety of recreational users and the work crews, areas within and near the work zones will be restricted during construction.
Waterfall Canyon Bridge area - The US 60 pull-out east of the Queen Creek tunnel nearest the Waterfall Canyon Bridge is expected to be closed during Waterfall Canyon Bridge reconstruction. Other nearby pull-outs may close intermittently based on the contractor's staging needs. In addition, the area near the bridge will be inaccessible due to construction work.
Queen Creek Bridge area - Trails between the historical concrete Queen Creek Bridge and the the historical Claypool Tunnel are expected to be closed during the project. The trail from the historical concrete Queen Creek Bridge to Superior is anticipated to be open intermittently depending on the contractor's needs and safety considerations.
For More Information
Subscribe to receive project updates and traffic alerts by email. For more information, please call the ADOT Bilingual Project Information Line at 855.712.8530 or submit a question or comment by email.  For real-time highway conditions statewide, visit ADOT's Traveler Information Site at www.az511.gov, follow ADOT on Twitter (@ArizonaDOT) or call 511, except while driving.