State Route 10B and SR 186 Pavement Rehabilitation Project: Arizona Avenue to Rex Allen Road
State Route 10B and SR 186 Pavement Rehabilitation Project: Arizona Avenue to Rex Allen Road
Overview
The Arizona Department of Transportation is completing a pavement rehabilitation project on State Route 10B in Willcox between Arizona Avenue and Rex Allen Drive (mileposts 339 to 340) and SR 186 between mileposts 326 and 327.
Project Area Map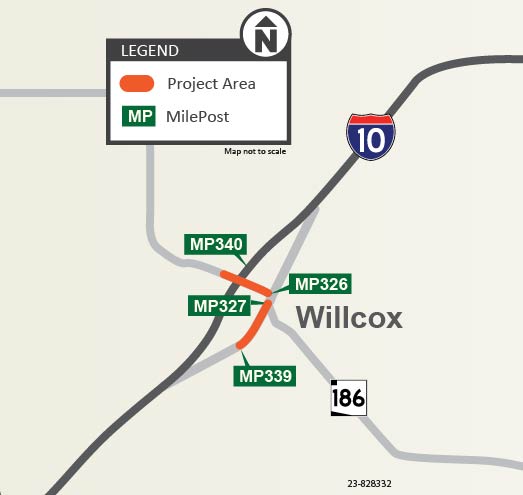 Project Elements
Key element of the project include:
Reconstructing driveways
Installing new sidewalks 
Replacing existing asphalt with new asphalt 
Completing new pavement markings
Project Schedule
Work began August 2023 on the sidewalks, ramps, and driveways. Pavement rehabilitation is scheduled to begin in Spring 2024. Schedules are subject to change due to weather and other unforeseen situations.
What to Expect
One lane will be open to traffic in both directions, so drivers should anticipate some minimal delays. Please allow for extra time when traveling through the area.
ADOT will provide advance notice of restrictions and closures to email subscribers and on the project traffic alert web page
Stay Informed

For more information and to subscribe to project updates by email, please visit the project web page at:
Pursuant to Title VI of the Civil Rights Act of 1964, the Americans with Disabilities Act (ADA) and other nondiscrimination laws and authorities, ADOT does not discriminate on the basis of race, color, national origin, sex, age, or disability. Persons that require a reasonable accommodation based on language or disability should contact Tara Gibson at [email protected] or 855.712.8530. Requests should be made as early as possible to ensure the State has an opportunity to address the accommodation.
De acuerdo con el Título VI de la Ley de Derechos Civiles de 1964, la Ley de Estadounidenses con Discapacidades (ADA por sus siglas en inglés) y otras normas y leyes antidiscriminatorias, el Departamento de Transporte de Arizona (ADOT) no discrimina por motivos de raza, color, origen nacional, sexo, edad o discapacidad. Las personas que requieran asistencia (dentro de lo razonable) ya sea por el idioma o discapacidad deben ponerse en contacto en Tara Gibson [email protected] o 855.712.8530. Las solicitudes deben hacerse lo más antes posible para asegurar que el Estado tenga la oportunidad de hacer los arreglos necesarios.
ADOT Tracs: F047401C