SR 80 Mule Pass Tunnel Safety Project near Bisbee
SR 80 Mule Pass Tunnel Safety Project near Bisbee
Overview
The Arizona Department of Transportation will complete a safety project to upgrade the lighting system in and adjacent to the Mule Pass Tunnel near Bisbee. Construction is tentatively scheduled to begin in fall 2022 and extend into summer 2023.
In addition to the upgraded lighting system, the project also includes restriping the roadway to provide a single driving lane in each direction with shoulders on each side of State Route 80 through the tunnel. The restriping will move the westbound lane drop from the west side of the tunnel to the east side of the tunnel, while still providing a merging area for the Tombstone Canyon on-ramp. Currently, there are limited roadway shoulders with the existing passing lane.
View Project Fact Sheet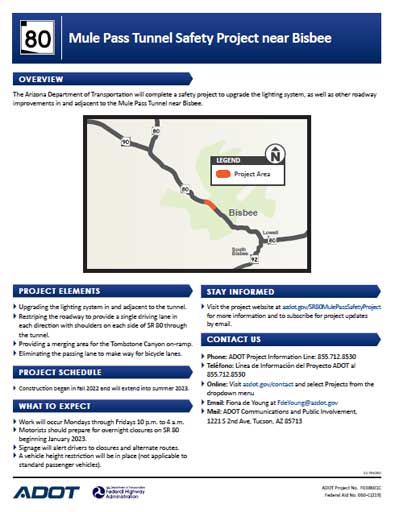 Project Map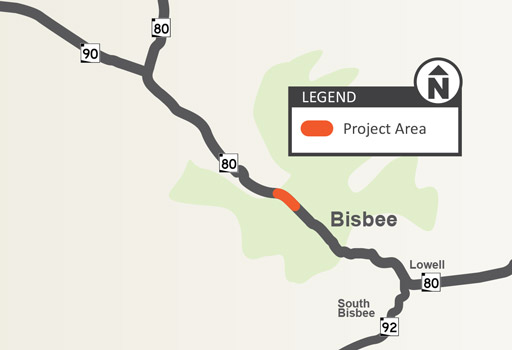 Traffic Restrictions
SR 80 is expected to remain open during the project. However, flaggers will control traffic in alternating directions while work is occurring, so delays are likely.
Stay Informed

By email: Subscribe to receive traffic alerts and project updates directly to your email.
By Phone: ADOT Project Information Line: 855.712.8530
Teléfono: Línea de Información del Proyecto ADOT: 855.712.8530
Online: Submit a question or comment through the ADOT website by visiting azdot.gov/Contact and then select "Projects" from the dropdown menu.