ADOT Equipment Shops awarded for reducing impact to environment
ADOT Equipment Shops awarded for reducing impact to environment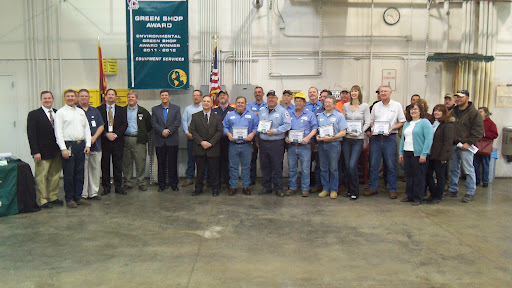 What does the phrase "going green" mean to you?
If you work in one of ADOT's Equipment Services shops, it means implementing more than 175 environmentally conscious "best management practices" within your workplace.
Those practices constitute a range of actions spelled out in a manual developed to help shops reduce pollution and improve operations in an environmentally sensitive manner.
The manual was created in 2006 as part of the Green Shop Program, which is designed to improve customer satisfaction and assist ADOT's equipment shops become more "green."
Right now, you might be wondering what an equipment services shop is … so, let us explain.
There are 26 ADOT Equipment Services shops located throughout the state and they provide vehicle services to more than 40 government agencies in Arizona ranging from state groups like the Arizona Department of Public Safety and Arizona Game and Fish Department to local police departments and school districts.
The vehicle services performed in the shops include tune-ups, diagnostics, repairs … even complete rebuilds. They work on all types of vehicles – from cars to snow plows! Plus, there's also the ability to perform specialties (think paint, body repair, welding and electrical) on the government vehicles that come in.
OK … back to the Green Shop Program.
After three years, the program was established and working very well – consistent training and follow-up meant the equipment shops were becoming "greener." It was time to take things up a notch and in 2009 the Green Shop Award became available only to shops that were in full environmental compliance and were doing things "above and beyond" to protect the environment.
Here are a few things shops have implemented to become the top "green" shop.
Performing quarterly spill response training and live drills 
Implementing a solid waste reduction plan 
Purchasing recyclable material when possible 
Cleaning parts with 100 percent non-solvent based products 
The Prescott Valley shop utilized used oil to run the shop's heater systems 
Green Shop Award winners are chosen annually through surprise visits to the shop where they are graded on their compliance with the manual and for implementing environmental methods that go beyond the standard practices. Two winners are chosen each year – one full service shop and one satellite shop.
Just last month, two shops were given the top award for their dedication – the equipment shop in Prescott Valley and a satellite shop off of Carefree Highway in the North Valley are the two winners this year!
"I am very proud that the Equipment Services Team has embraced the environmental program," said Administrative Services Division Director John Nichols. "However, what impresses me the most was how close the scoring came just to find a winner. Our Green Shop program winners had to go above and beyond to win the award. We may have two Green Shop Award winners, but the real winner is the environment."
ADOT's Equipment Services Administrator Devin Darlek agrees and says he's amazed, but not surprised, by how well and how quickly the shops have adapted to the green system.
"We've saved so many tax dollars by reducing waste at the same time we're protecting our storm water and other environmental responsibilities," he said.