US 89 landslide repair continues
US 89 landslide repair continues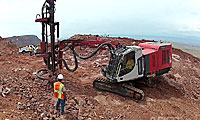 By now, you know that crews on the US 89 project site near Page are busy blasting, digging and hauling dirt and rock – lots and lots of dirt and rock.
We're talking roughly a million cubic yards of material which, as you can see in the video above, is being used to build a 1,400-foot-long buttress that will stabilize and reinforce the mountain slope that carries US 89.
Geotechnical Engineer Keith Dahlen explains that the construction activity recently triggered some movement of the original landslide and until work is complete there could be some additional settling of the slide.
"It's nothing that we can't control by getting that buttress put in place," he says in the video.
Back to that recent movement – it happened last month and as a safety precaution, all workers were pulled off the site until everything was assessed. After geotechnical engineers inspected the site, work began again nearly 24 hours later. Throughout the duration of the project, the geological experts have been and will continue to closely monitor for any potential movement.
The ultimate repair of US 89, which is expected to be complete before next summer, is the final step in fulfilling ADOT's three-pronged approach to the US 89 landslide incident. That approach included providing immediate emergency access, conducting a geotechnical investigation, and restoring essential traffic to the area, including the paving of US 89T (Navajo Route 20) to serve as a temporary detour until US 89 is reopened.
"This project is very important to those communities that weren't able to benefit from the N 20 detour," says ADOT Senior Deputy State Engineer Rob Samour in the video above. "We need to restore mobility to this area and US 89 is a critical link to that mobility."
To see more of the project's progress, check out photos of the site on the ADOT Flickr page.