Adopt a Highway: Arizona Game and Fish volunteers preserve highway habitat
Adopt a Highway: Arizona Game and Fish volunteers preserve highway habitat
By Mary Currie / ADOT Communications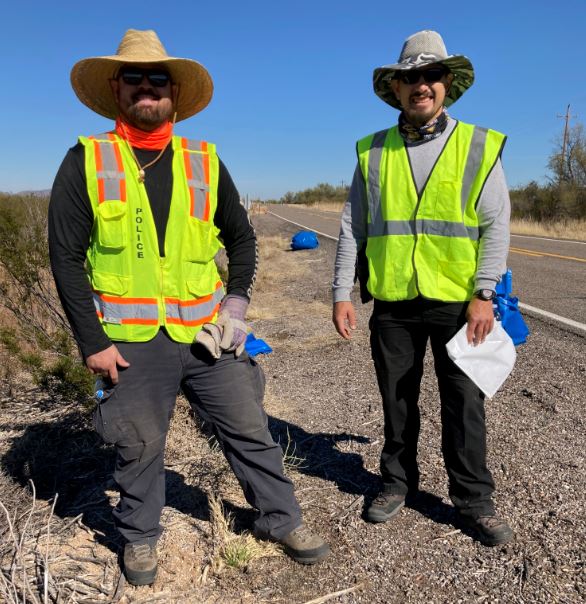 AJ Lander and Noah Silva were recognized for their volunteer service earlier this year when they each received a "Keep it Grand" lapel pin for participating in a highway cleanup in January.
Lander and Silva were collecting litter in 40-gallon trash bags along a stretch of State Route 286, about halfway between Three Points and Sasabe at the Arizona-Mexico border, when they were spotted by Mary Currie, who manages the Adopt a Highway program for ADOT and was driving through the area.
The wildlife managers — and volunteers that day — had returned for the third year to participate in the "All the Way to the Border" cleanup event on Jan. 29 led by Melissa Owen, a local ranch owner.
The highway creates a boundary between Silva's managed area to the east and Lander's area to the west. Silva enjoys helping clean up the environment. "It's a good thing, giving back," he said. "We work with land owners on each side of this highway."
Lander added that this is all about habitat improvements and natural resource conservation. "It may just be the shoulder of the highway, but it is still a natural area. This is our home." 
"ADOT appreciates these two Arizona Game and Fish volunteers, whose service contributed to the removal of 211 bags of trash from alongside the highway," Currie said. "When Lander said, 'this is our home,' it really resonated with me. Volunteers are helping to protect the homes of human and wild creatures alike by removing litter."
SR 286 passes through Arizona's high desert and the protected area of the Buenos Aires National Wildlife Refuge. Plastics, glass shards and other forms of litter pose a real danger to deer, pronghorn and other wildlife. 
If you are interested in becoming one of the thousands of dedicated volunteers keeping our highways clean and safe visit the Adopt a Highway webpage to get started.