Adopt a Highway: Outstanding volunteers beautify Interstate 40
By Mary Currie / ADOT Communications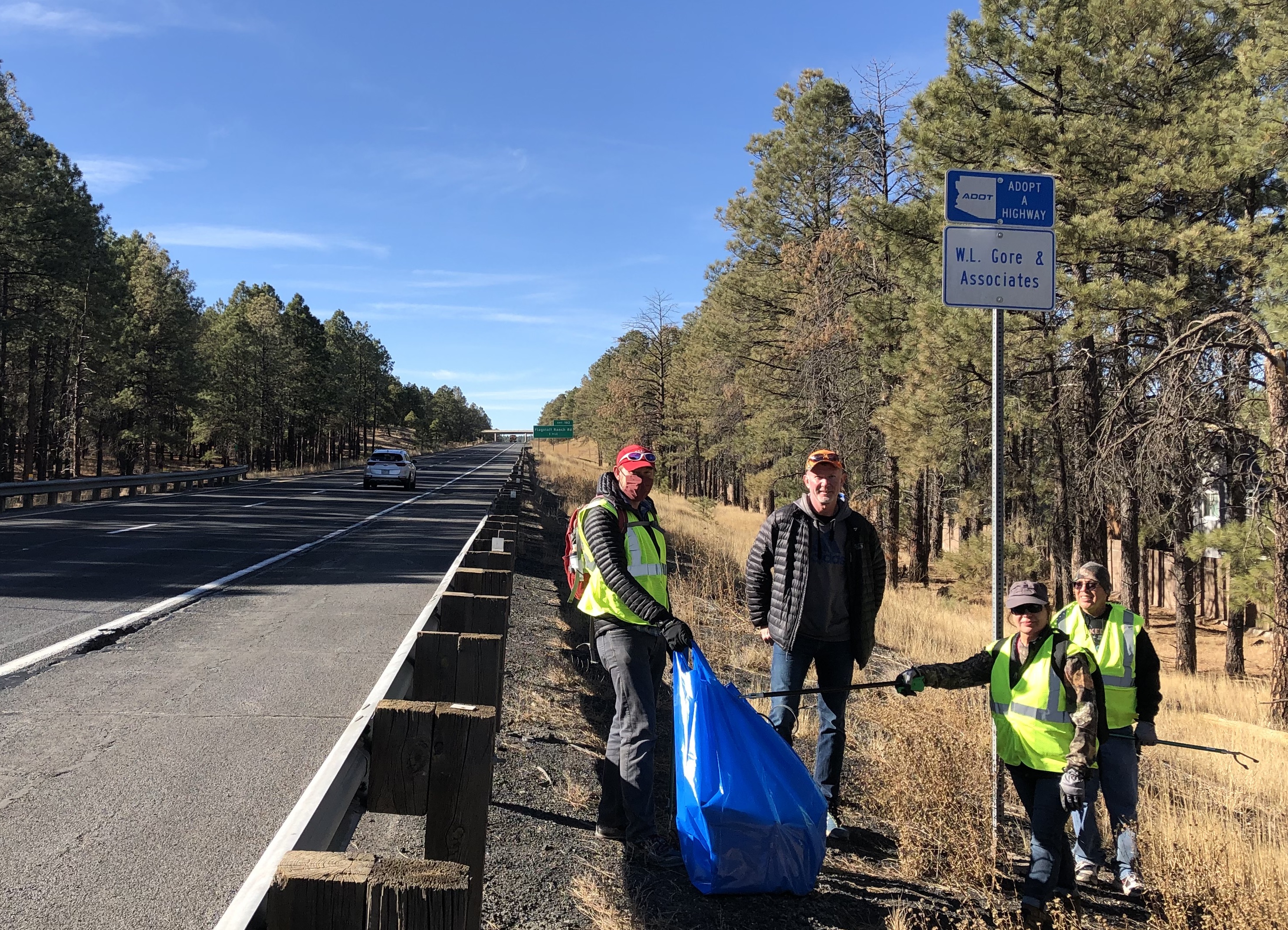 "I think a more rewarding return for this type of event is the relationships people can build and maintain by participating in a common outdoor activity for the day."
That's what John Riordan had to say about his participation as a volunteer in the Adopt a Highway program and adopt a section of Interstate 40 near Flagstaff. "This stretch of highway is adjacent to my employer, W. L. Gore & Associates, so I was typically driving this section everyday, prior to 2020," Riordan said. "It was a short drive, mostly along the highway, and I noticed the trash building up and it got to the point where I decided to take action."
Riordan's home has been in Flagstaff for over 12 years now. "I love the outdoors, nature, wildlife, and the many awesome experiences it has to offer. We need to treat our land with respect and preserve it for future generations."
I asked what the motivator was for the overwhelming participation. "Picking up trash is simple, but it can impact many people who drive these sections—Flagstaff sees millions of visitors and tourists every year and I wanted to try and help them have a more positive experience when coming to see our beautiful part of the country.".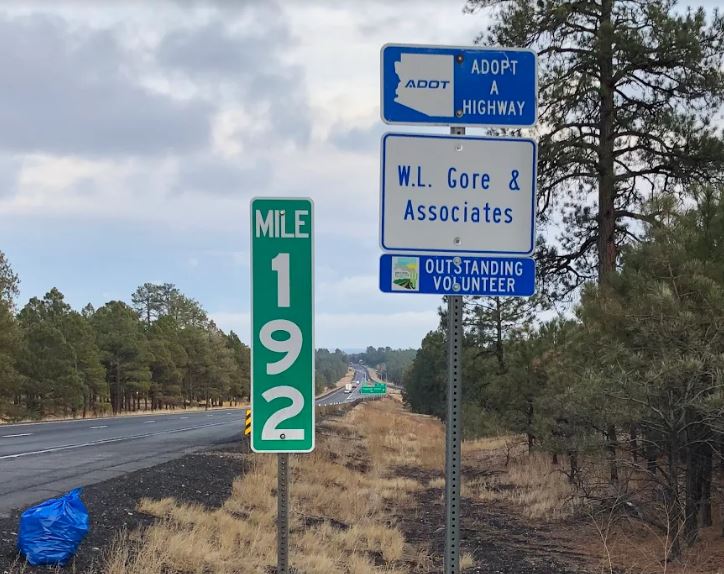 What makes this particular group "outstanding" is the commitment to clean up their adopted segment three or more times a year, indicated by the additional placard shown in the photo to the left.
Participating since 2018, W. L. Gore & Associates, offers its employees the added perk of paid volunteer time that has helped enable 67 associates to clean up more than 400 bags of garbage over the last two years.
"Once you decide to organize a cleanup event, by sending calendar invites, colleagues can easily add it to their schedule which helps increase participation," Riordan offered. "Don't be afraid, ADOT has made this program so easy to participate in, they have made it simple, safe, and personally rewarding."
After 11 employees signed up for a cleanup event, the group decided to adopt two more miles in the area last December.
Jeanne Sunda, ADOT permit coordinator who's managed the program in the Northcentral District for 11 years said, "Eight hours of volunteer labor and 82 bags of trash removed from the state right-of-way in one day is more than any group in the Northcentral District has done in one day since I have been coordinating the district's volunteer program."
The area maintenance supervisor, Tod Skinner, remembered that it took more than two fully loaded dump trucks to move the trash to the dump. Large pieces such as a bicycle and a baby car seat were collected on this stretch of Interstate 40 west of Flagstaff. These items are bulky and can be dangerous to motorists if not secured properly. Traveling at freeway speeds can loosen moving straps and allow items to end up along the highway or worse, in moving traffic.
ADOT tips a hat to all the volunteers and the generous support of W.L. Gore & Associates for turning heads with its major volunteer effort.
You can join the ranks of 120 Outstanding Volunteer groups across Arizona in these three easy steps:
Contact us about joining the program in your area;
Conduct three or more cleanup activities per year with your Adopt a Highway group;
Tell us about it. Report the number of trash bags your group collects during each cleanup to the Activity Report. Every bag counts in the effort to keep Arizona grand!