ADOT employees awarded for going above and beyond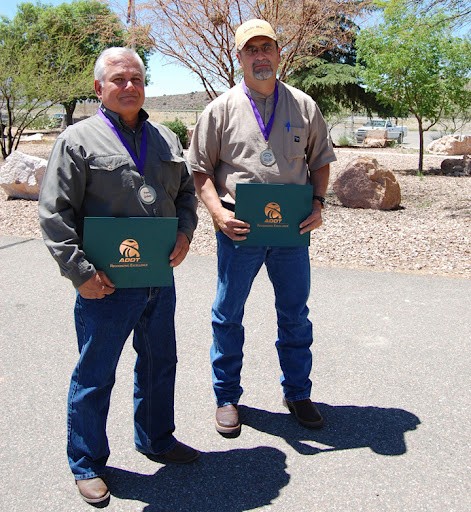 A call to the Arizona Department of Transportation might not be the first you'd make during an emergency ... but in some situations, an ADOT crew could be your best hope for help.

Take for example a call that came in to the Show Low highway maintenance dispatch office back on Dec. 31 at around 10:30 p.m. An Arizona Department of Public Safety officer's vehicle was stuck in the snow on Highway 191 in the far southeastern portion of the state.

ADOT highway operation tech Frank Gidney was on duty, so he and his snowplow headed out in that direction.

Once Gidney reached the scene he learned the DPS officer had actually been called to help a family – stuck in the snow and out of fuel.

Frank's snowplow started to clear the way again as he and the officer took off toward the family's reported location. They soon were joined by ADOT highway operation tech Lonnie Baca, who also was driving a snowplow.

At about 3:30 a.m. the three men made it to the stranded family, which included five young children. Weather conditions at that time were very severe ... it was about -24 degrees and the snow was roughly four feet high.

Miraculously, everyone was okay.

"There was ice on the inside of the windows of the (family's) vehicle," Gidney said.

"They said they couldn't thank us enough," Baca added.

The ADOT crew and DPS officer managed to get fuel for the family's vehicle and assisted them in making it back to a hotel in nearby Alpine.

This was not an everyday highway maintenance call ... that's for sure.

"You run into people who are stuck, but not a desperate situation like this," Gidney said. "Lonnie and I feel there's nothing we did that anyone else wouldn't have done."

Even though they're modest about the life-saving assistance they provided, Baca and Gidney's co-workers definitely feel they are heroes.

In fact, the two were awarded ADOT Life-Saving Awards on April 28.

ADOT Director John Halikowski, State Engineer Floyd Roehrich, Jr. and Deputy State Engineer Dallas Hammit traveled to Globe to present the awards and offer their thanks.

"It's important work that you do," Director Halikowski told the two, along with their fellow highway operation techs, during the awards presentation. "Thank you."