ADOT expands hours and days when travel times are displayed above Phoenix-area freeways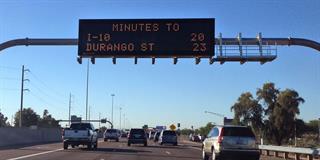 If you drive Phoenix-area freeways during rush hour, you've probably taken note of the "commute times" displayed on overhead message signs…
First introduced by ADOT in 2008, the travel time displays provide motorists with estimated commute times to locations, like major cross streets and destinations. Besides giving an idea of what to expect on the road ahead, commute times allow drivers to make informed decisions concerning their route.
That's why you'll be glad to know that ADOT has increased the hours and days when travel times are displayed – drivers can now expect to see them during evening hours and on weekends.
Up until earlier this week, only weekday rush-hour commuters benefited from seeing those commute times.
Message boards are now displaying the estimated travel times seven days a week, from 5 a.m. to 11 p.m. weekdays and 7 a.m. to 9 p.m. on weekends.
ADOT actually tested the expanded travel-times program for three days leading up to this year's Super Bowl in Glendale, when a number of events and heavier traffic conditions occurred at times across the Valley. The agency has received positive public feedback about the travel times.
Seventy-seven of the overhead message boards in the Phoenix area display commute times.
More about travel times
ADOT worked with the Maricopa Association of Governments, the metropolitan planning organization in the Phoenix area, in launching the commute-times program seven years ago. The system uses freeway-management technology, including sensors in the pavement, to calculate estimated travel times.
The destinations that are displayed on the message boards are determined by ADOT, after receiving feedback from local cities and AZTech. AZTech is a regional partnership of agencies that has teamed up for more than two decades to improve the management of traffic conditions in the Phoenix area.
To get more details on travel times and to learn how they're calculated, revisit this previous post.