ADOT Kids Activity: A new Keep It Grand coloring challenge!
ADOT Kids Activity: A new Keep It Grand coloring challenge!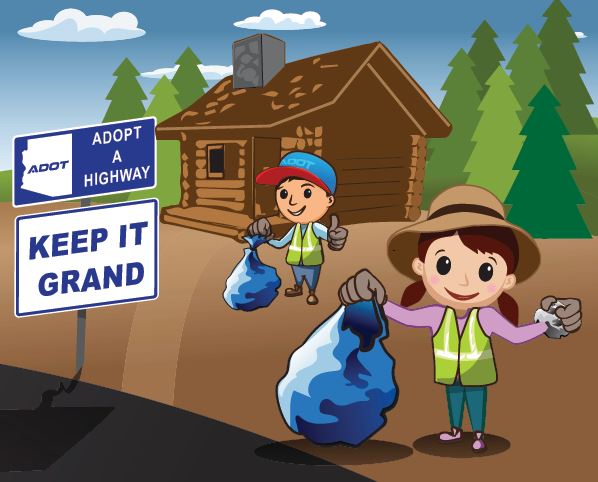 EDITOR'S NOTE: During this unprecedented time, ADOT is creating transportation activities for kids. Please visit azdot.gov/ADOTKids or use the hashtag #ADOTKids on ADOT's Twitter, Facebook and Instagram accounts to see what we have going on. (This blog originally appeared in 2020)
By Mary Currie / ADOT Communications
We loved the chalk art you created a couple of weeks ago encouraging others to Keep It Grand by not littering. I hope you were able to catch my video where we answered your questions about the most common type of litter picked up and how much trash we collect. That video also features your artwork and we've added it to a Flickr album too! 
This week we have a coloring page where you can color in the Keep It Grand logo or add your design to the Adopt a Highway kids. Click on the image at right to get a version you can print.
Once you're done, don't forget to email your coloring to [email protected] by Wednesday, May 20, 2020. We'll again feature it on our website and we may share it on Twitter or Facebook! If you have a parent post your artwork on social media, make sure they use the hashtag #ADOTKids so we'll see it. 
On Friday, May 22, we'll share all of your art and also send those of you who participated a stormwater activity book and an Adopt a Highway lapel pin.
You may be wondering why we encourage everyone to avoid tossing trash out their car window. We have some statistics that will help you understand that trash is a problem we need to deal with.
Each year 51.2 billion pieces of litter are left on roadways in the United States. That's more than 6,700 pieces of trash per mile! 
Last year, Arizona Adopt a Highway volunteers picked up 16,000 bags of litter.
Volunteers helping pick up trash along state highways saved taxpayers $580,000 in 2019.
While we have more than 1,100 volunteer groups cleaning up nearly 2,000 miles of state highway, there is more work to do. If you or your family is interested in adopting a mile, please visit our Adopt a Highway webpage. It's easy to adopt and you can even get your name on a highway sign!