ADOT Kids: How road signs are made
ADOT Kids: How road signs are made
By Laurie Merrill / ADOT Communications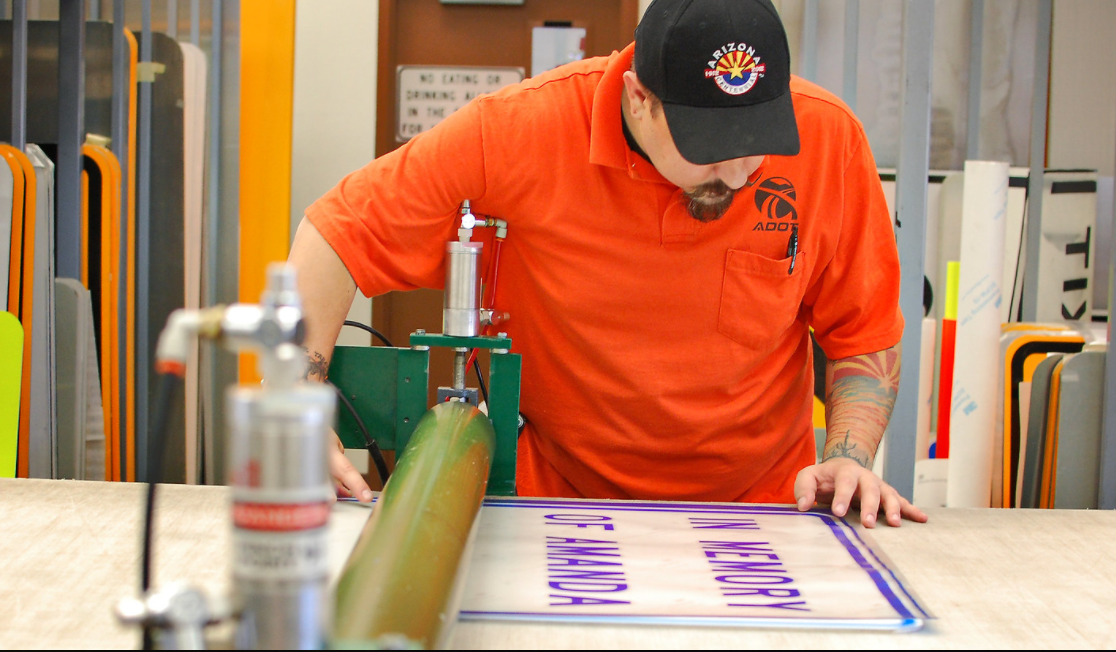 Hey, ADOT Kids, do you know how all those road signs are made?
The Arizona Department of Transportation makes all its own signs at a sign shop in Phoenix, where a handful of sign technicians turn out 300 to 400 signs every month.
The signs come in all shapes and sizes and in all colors, including square, rectangle, diamond, green, white, yellow, blue and red.
But, did you know they are all made from aluminum stock?
There are two ways signs are made: Screen printing and electric cutting. 
For the electric cutting method, technicians first apply reflective vinyl onto the aluminum. If it is a red sign with white letters, the white vinyl goes on first and then the red vinyl. Then the sign goes to the electric cutter. Technicians program precise measurements into the cutter machine. Then the cutter cuts out the words that will appear white on the red sign. The red vinyl is peeled off where the letters were made, revealing the white vinyl underneath. That's how a red sign gets white letters.
Making signs is so much fun that ADOT Director John Halikowski made some from scratch during a visit to the shop several years ago. You can watch him making signs in our video. We even had a 7-year-old sign lover named Hunter Vincente tour the sign shop. Read about that visit and the "no trucks" sign that was created just for him.
The sign techs also have fun making the signs. One of them missed making signs so much he came out of retirement to return to the sign shop!
If you want to learn more about our highway signs, you can read this other ADOT Kids story we did about them. And if you would like to learn more about what goes into building and running highways and freeways, check out our ADOT Kids website for fun videos and activites to bring our your inner engineer!